Owning an Apartment Complex – Profitability, Pros & Cons
April 09, 2019
An apartment complex consists of two or more apartment buildings.  Logically, you would expect that running and owning an apartment complex is harder than running a single building.  However, there are certain economies of scale that work to the benefit of apartment complex owners.  Owning an apartment complex pros and cons are somewhat different from those for other multifamily structures.  In this article, we'll discuss the process of buying and owning an apartment complex, review its profitability, and evaluate owning an old apartment building vs a modern apartment building.
On a related note, you can check out our breakdown of different types of apartment buildings.
What to Know About Owning an Apartment Complex?
The first step in owning an apartment complex is knowing how to buy one. For more detailed information, check out our article, How to Become a Landlord: What Nobody Tells You.
Buying an Apartment Complex
Buying an apartment complex is more involved than purchasing single-family properties.  You must have a deeper knowledge of the managerial and financial aspects of owning an apartment complex.  Let's lay out the steps involved:
How Assets America® Can Help
Assets America® provides multifamily financing for the acquisition, construction, and refinancing of existing multifamily rental properties.  We offer multifamily loan packages tailored to a specific project and a specific borrower's set of unique requirements. Please note that our financing begins at $10 million with virtually no upper limit.
We are a large transaction commercial expert with close to four decades of experience. Moreover, we have funded numerous apartment (multifamily) loans and apartment building financing transactions. We provide second-to-none, personal service with outstanding results!  Call us today at (206) 622-3000, or simply fill out the below form and expect a prompt response!
Apply For Financing
1.  Are You Suited for Apartment Complex Ownership? 
A lot depends on whether you plan to actively manage the property yourself.  Alternatively, you can hire a property management firm to operate the property for you.  In the former case, you will be devoting most of your time and energy to operating the apartment complex.  But if you delegate the management to an outside firm, you become a passive investor with little involvement.  Not surprisingly, caring for an old apartment building can be more challenging than operating a modern apartment building.  You must decide your level of involvement, your willingness to risk your money, and your appetite for rental income.
For an insider's look on the life of a landlord, read our guide, Owning an Apartment Building: A Day in the Life.
2.  Choose the Right Type of Apartment Complex
You'll need to decide how many units you want to own in light of your ambition and risk-tolerance.  If you are looking to supplement your retirement income, you might prefer the income from a small complex.  However, if you wish to earn a larger income despite the risks, you'll consider a complex containing larger apartment buildings.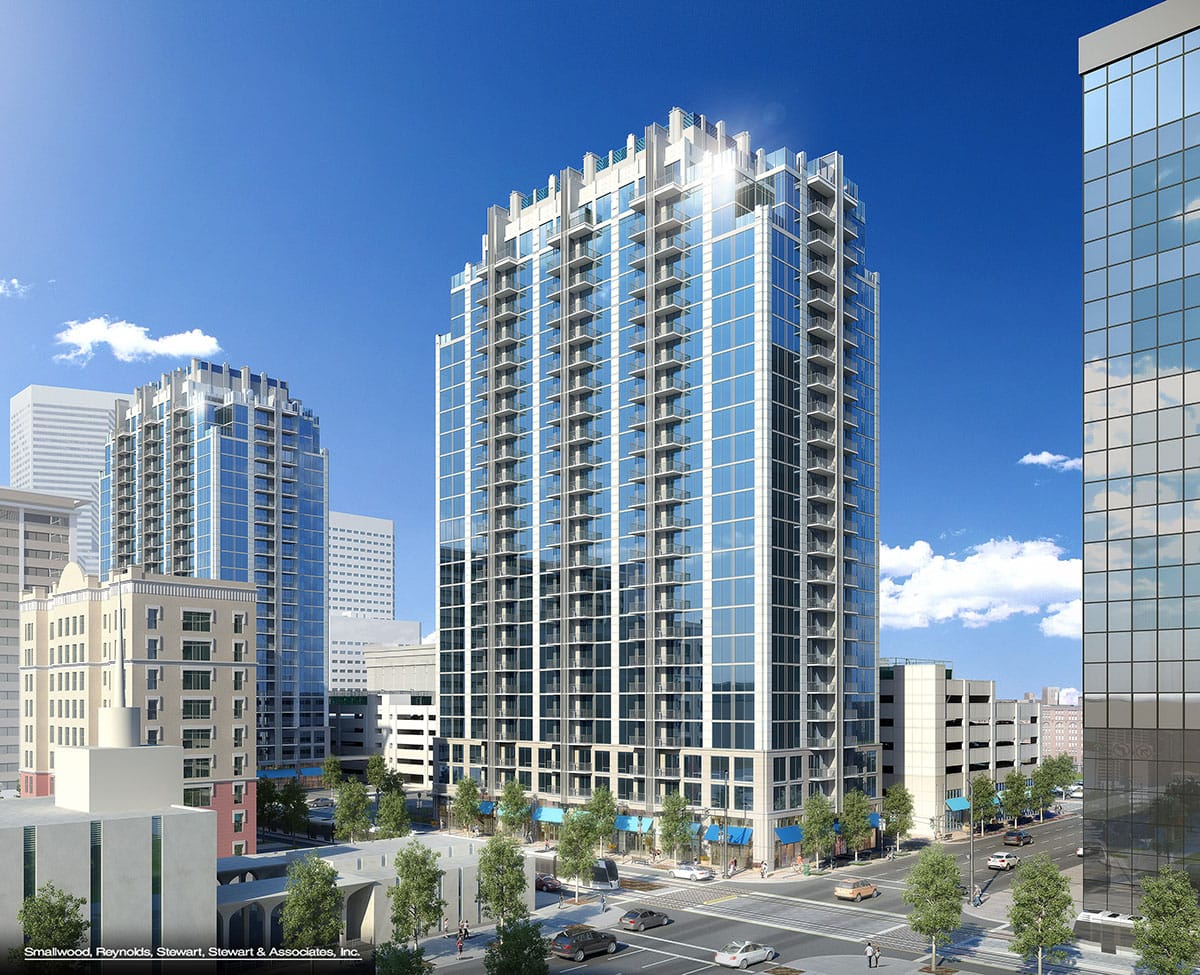 Also, there are complexes that are mixes of multifamily units and mixed use development.  Modern apartment complexes are typically luxury properties built in the last 10 years, the so-called Class "A" properties.  These properties have numerous amenities, including tennis courts, swimming pools and clubhouses.  On the other hand, Class "B" properties are up to 20 years old, well-constructed, and with some Class "A" amenities.  Class "C" and Class "D" properties consist of old apartment buildings that need renovation and repair.  They are short on amenities and sometimes qualify as subsidized housing.  You may find your best bargains among Class "B" and Class "C" properties.
For more information, you can read our detailed guide on building classes.
3.  Find an Apartment Complex for Sale
If you want to conduct the search yourself in order to purchase and own an apartment complex, you'll need to devote substantial time to the process.  But you potentially can save some real estate commission by avoiding a real estate agent, though it is the Seller that typically pays the commission.  Also, some sellers prefer working directly with a buyer rather than through an agent.  Moreover, some sellers might offer you owner-financing.  You can enlist the assistance of the local real estate investment club, which usually have networks of contacts.  On the other hand, using a commercial real estate agent grants you access to the multiple listing services they use.  Naturally, this can speed up the search considerably.  Helpfully, agents also understand the various local neighborhoods, which can be especially useful information.  Also consider using a business broker who can put you in touch with owners shopping their rental businesses.
For more detailed information on buying an apartment complex or any other type of multifamily property, read our article, Multifamily For Sale: Complete Buyer's Guide.
4.  Evaluate Candidate Properties
You must assess several factors when evaluating an apartment complex for sale.  This starts with the location, which should be desirable or on its way to becoming desirable.  Also, consider the number and size of the units in the complex.  Take stock of the property's condition, the construction details and the amenities it offers.  Importantly, if the roof is flat, be alert to water infiltration problems.  Also, a brick frame is more durable and fire-resistant.  Old plumbing can be a large hidden cost, including possible lead poisoning.  You'll prefer complexes where each unit has its own electrical meter.  That's because tenants will be able to pay their own electricity costs, which helps encourage conservation.  Also, be sure to test for lead paint, a considerable expense to remediate. 
5.  Check the Numbers
Look at the complex's financial reports, cost per unit, rent roll, and occupancy rate.  Eventually, you'll have to evaluate the full financials with the help of a qualified accountant or auditor.  In fact, you should review at least one year of financial reporting, and more if possible.  Moreover, you should most assuredly check the gross operating income, vacancy rates, expenses and specific financial ratios.  Furthermore, you should ensure that the seller's cap rate representation matches reality given subject property's location, net operating income and asking price.
6.  Perform Due Diligence
It is very important to ask questions.  First, as much you desire to own an apartment building, you've got to ask, "Why is the current owner selling?"  It might be acceptable if the owner wants to retire and relocate.  But it's a different story if the owner just wants to avoid costly repairs that he knows are coming.  Don't be surprised if the seller tries to hide some derogatory information.  In fact, gather important documents, such as copies of all the signed leases in the apartment complex.  Importantly, this will let you confirm rental amounts, lease termination dates, tenants with pets, and security deposit information. 
Also, check the owner's tax returns, confirming the NOI reported on the P&L statement matches the tax return's NOI.  Naturally, if you're serious about buying the complex, bring in a building inspector or engineer for a thorough inspection.  In addition, get an independent third-party appraisal using one or more evaluation methods.  Specifically, these valuation methods include the market value, replacement cost, and income approaches.
7.  Arrange Financing and Close the Deal
Assets America® offers $5M+ acquisition loans, renovation loans, bridge loans, mini-perm loans and takeout loans (mortgages) for apartment complexes (multifamily loans).  We expedite the financing details, work with the escrow agent, secure receipt of security deposits and we can even monitor the closing.
How Profitable Is Owning an Apartment Complex?
Frequently, there is good profit potential in buying an older apartment building.  Typically, the price of an older multifamily property will undercut a more current, modern apartment building's price in the same location.  Unsurprisingly, your profit potential ties directly to the amount of rehab you must perform and the purchase price you pay.  Therefore, you need accurate numbers for NOI and a cap rate that makes sense.  Only then can you feel comfortable with the purchase price.  Suppose your complex has 50 units and the average annual NOI per unit is $10,000.  Then your net operating income should equal approximately $500,000 per year.  Any unexpected expenses or unplanned vacancies will decrease this number.  Therefore, it's prudent to assume you'll earn just 90% of expected income.  In this case, that's $450,000.
For more detailed information, including current multifamily market trends and success stories, read Investing in Apartments: Complete Success Guide. For a guide on how to buy apartment buildings, check out Multifamily For Sale: Complete Buyer's Guide.
What Are the Advantages and Disadvantages?
Owning an apartment complex pros and cons essentially boils down to risks versus rewards.  However, there are many aspects to owning an apartment complex pros and cons which we will now explore.
Owning an Apartment Complex Pros
Here are the important advantages of owning an apartment complex:
Multiple Income Streams:  You will receive more income streams from an apartment building than from a single-family home.  This helps you to better withstand occasional vacancies.
Building Equity:  The multiple income streams can provide the cash flows necessary to pay down the mortgage.  This increases your equity in the apartment complex. 
Easier Financing:  Lenders are more willing to finance apartment complexes because of the strong monthly cash flows from multiple sources.
Tax Advantages:  The current tax laws are very favorable to commercial property owners.  The qualified business deduction of 20% is a great incentive to owning an apartment complex.  Of course, all your expenses are deductible, either immediately or through depreciation.
Capital Appreciation:  Your apartment complex should reward good management with value appreciation.  One reason is the potential for higher rents over time.  If you improve the reputation of an apartment complex, your vacancy rate should decrease accordingly.  All these factors increase the property's value, boosting your capital gains when you sell.
Growing Your Real Estate Portfolio:  Buying an apartment complex quickly bulks up your real estate holdings.  Many experts recommend that you hold up to 20% of your investment assets in real estate.
Economies of Scale:  If you employ a property management firm, you should spread its costs over the number of units you own.  Clearly, property managers can charge less if they manage multiple units in a compact area.  Consequently, this reduces the overall impact of fees.
Owning an Apartment Complex Cons
Be aware of these possible disadvantages to owning an apartment complex:
Time:  If you choose to take on landlord duties, expect to devote much time to your property.  Your attitude and expectations will determine whether this is a good thing or bad. 
External Effects:  You can't keep a neighborhood from changing, sometimes for the worse.  This can depress your investment and lead to a loss.  It's up to you to be aware of neighborhood dynamics before you purchase an apartment complex.
Limited Liquidity:  It takes time to sell your apartment complex.  You can't simply turn your investment into cash overnight without risking a potential loss. 
Unreliable tenants:  Tenants who don't pay on time and/or break the rules can be a real headache and eat into your profits.
Unexpected maintenance costs:  Things break. It's a good idea to have plenty of insurance, especially on recently purchased appliances and so forth.
State-Specific Information on Landlord-Tenant Law
Below you can find overviews of landlord-tenant law for these states: 
If your state is not listed above, you may use this state-by-state guide to landlord-tenant legislation.
Related Articles