In this article, we'll discuss mixed use development loans, also called mixed use financing or mixed use mortgages. First, the definition for mixed use development refers to buildings that have multiple units zoned for different uses. This is usually residential (multifamily) and commercial (retail shopping centers and office building) space. By definition, it can also include a mixed use of industrial, institutional and cultural units.
Furthermore, a mixed use building might consist of residential units above several ground-floor retail stores. Some government-backed loans require at least 80% mixed use residential use. Accordingly, Assets America funds mixed use development for medium and large properties, starting at $20 million.
Mixed Use Development Loans
Loans for mixed use property include both short-term and long-term financing. Equally important, the construction/rehab phase receives funding from interest-only, mixed-use construction loans or commercial mortgage bridge loans. Banks and private lenders, provide the funding, often with the backing of government agencies. The loans commonly have terms from 6-18 months. However, they could conceivably run up to 5 years on larger projects. Mini-perm loans pay off the construction phase once a certificate of occupancy has been granted and 90% to 95% of the space has been leased and stabilized. These loans eventually give way to permanent, commercial takeout loans with amortization terms up to 30 years.
Furthermore, these loans can refinance mixed use real estate. Assets America can conveniently provide full, mixed use development financing for mixed use construction, mixed use bridge, mixed use mini-perm and mixed use takeout loans. To that end, investors and business owners nationwide receive assurance of funding continuity. Moreover, our multi-use bridge loan funding helps developers that don't qualify for typical, bank-sourced construction loans.
Apply For Financing
Who Benefits from Mixed Use Development Loans
Real estate investors and business owners are the primary two users of mixed use development mortgages. The investor will build/buy the mixed use building. Then, he will lease out the space to commercial and residential tenants. It is also possible to sell units. This kind of investment is attractive on a risk/reward basis. Commercial tenants usually pay more in rental income than residents. Consequently, the increased occupancy risk stemming from commercial tenants is offset by stable residential leases. Usually, apartments are cheaper to maintain and don't need commercial unit build-outs (aka TI's) or leasehold improvement allowances.
Taking all these considerations into account, mixed use buildings have attractive risk and return characteristics for investors. Of course, investors can choose to live in their mixed use development. They could sell or lease out the remaining units, if any. The business owner may also function as landlord or farm this function out to a professional property manager.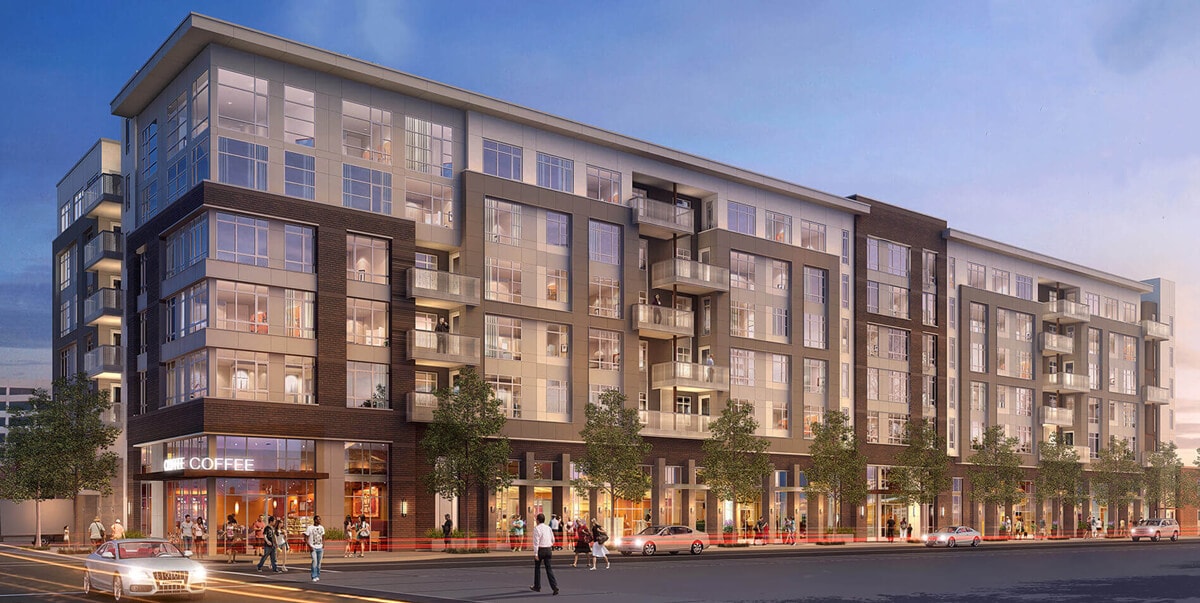 Mixed Use Building Types
Most mixed use buildings consist of a residential component occupying at least 80% of the net leasable area. Consequently, the remainder would go to non-residential space. This typically consists of commercial office space and/or retail shopping center space. There are some common mixed use development combinations. For example, these include
Main Street Commercial/Residential
Commercial units on the ground level facing the street below a few stories of residential units.
Urban Commercial/Residential
Similar to main street commercial/residential buildings except the commercial space doesn't necessarily face out to the street. These building typically have 3 or more stories.
Office and Multifamily
Residential (multifamily) units sharing space with offices in one or more buildings.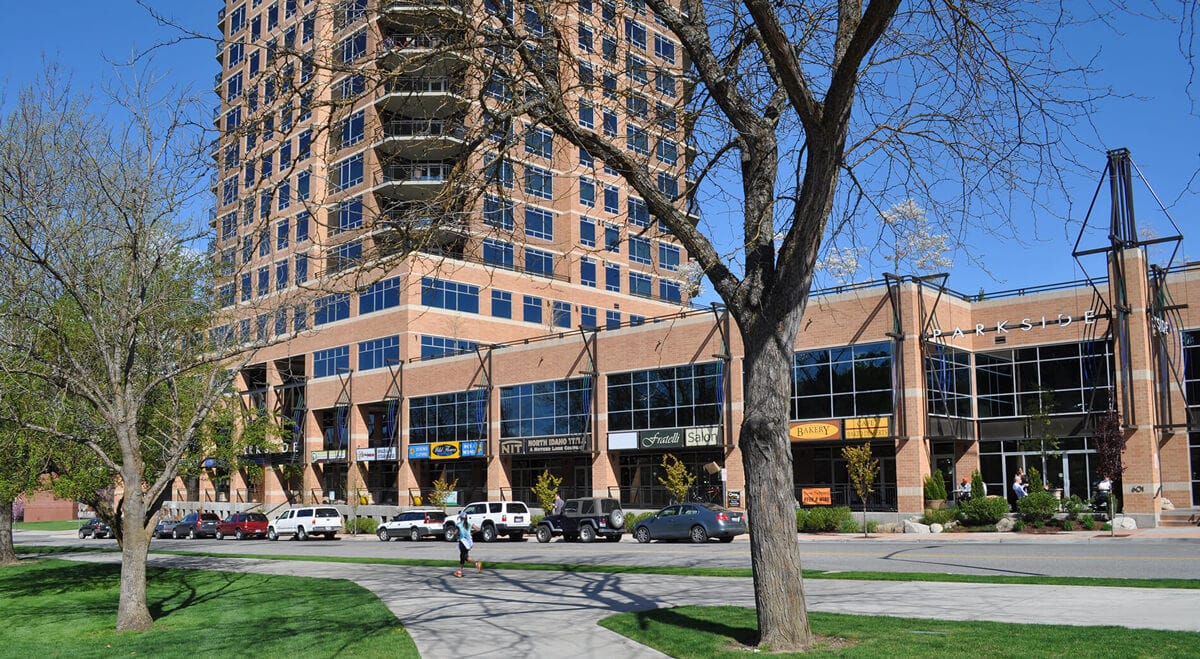 Live/Work Space
This is a property in which the owner lives in the residential portion and works in the commercial portion. The above project is a beautiful Class "A" mixed-used development with financing from Assets America. This elegant high-rise property exists in a tertiary market. The property consists of a "commercial component" on floors 1-5, as well as a residential component. The residential portion includes for-sale, luxury condominiums. The condos reside on the 20 stories above the first 5 floors of retail and office.
Studio/Light Industrial
A building where residents can operate small workshops or studios. For example, check out our article Adaptive Reuse of Industrial Buildings – 7 Brilliant Ideas.
Retail District Retrofit
Renovated mixed use suburban properties that were once strictly retail. For example, check out the article Retrofitting Dead and Dying Suburban Shopping Malls.
Hotel and Residence
Hotels sell some units as condos to residents who share the building with hotel guests. For example, the Four Seasons does this. You can also check out the "Landing Hotel" featured in the image below.
Neighborhood Commercial
Mixed use buildings with a ground-floor convenience store, usually situated in residential neighborhoods.
Shopping Mall Conversion
Residential units added adjacent to an existing shopping mall.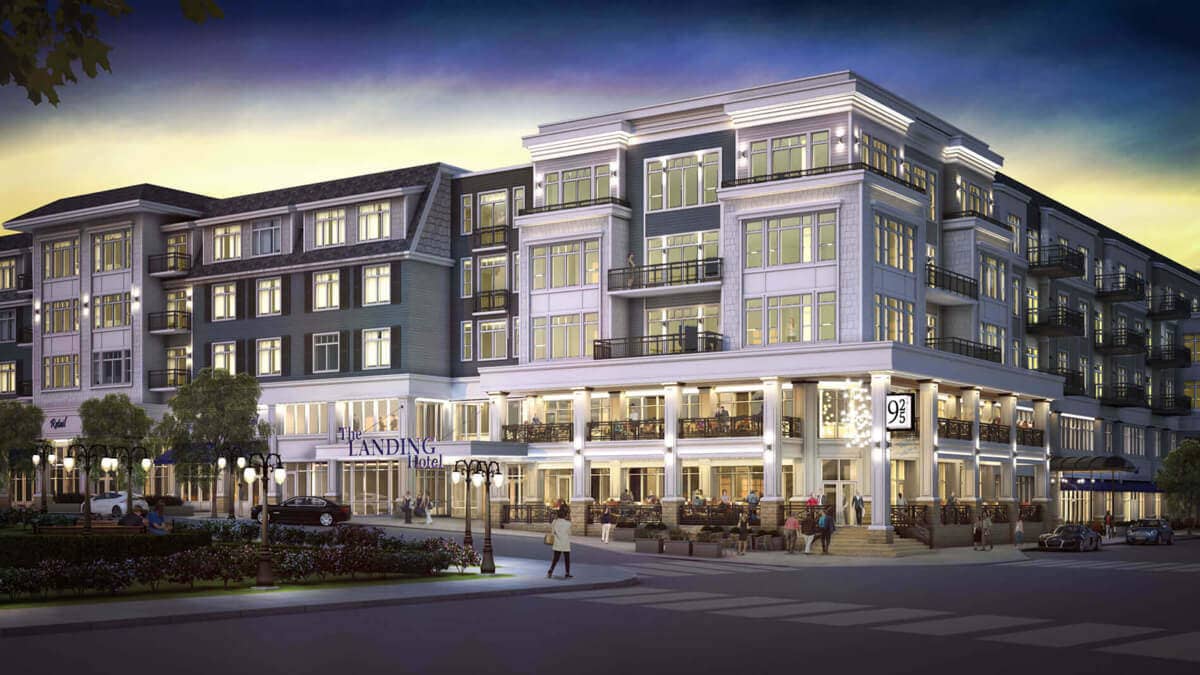 Types of Mixed Use Financing
Typical sources of mixed use development financing are banks, conduits and private lenders. Government agencies can also guarantee (and in some cases provide) funding for mixed use development.
Government-Backed Mixed Use Development Mortgages
Although several agencies back mixed use development loans, Assets America typically works with Fannie Mae for permanent financing of mixed use projects. Additionally, The Small Business Administration typically limits loan amounts below the range at which we operate ($20M+). In fact, the USDA also provides loans for mixed used development in USDA rural development areas.
Fannie Mae
Fannie Mae multifamily mortgages are available for mixed use properties in which the space is at least 80% residential. The fixed-rate mortgage loans have standard terms. For example, these include:
Term: 5 to 30 years, non-recourse fixed rate, for acquisition or refinance of existing properties.
Amortization: Up to 30 years.
Minimum DSCR: 1.25.
Maximum LTV: 80%.
Eligibility: First of all, properties must have at least 90% occupancy for a minimum period of 90 (aka 90 for 90) days prior to funding. Next, properties must have at least five units. Also, Fannie prefers metropolitan properties but will consider secondary and tertiary markets if other aspects of the deal fall within certain parameters.
Prepayment: Likewise, this option is available with payment of yield maintenance or prepayment premium.
Rate Lock: Certainly, most commitments are written for 30 days to 180 days.
Commercial Loans
Assets America® uses a network of local, regional and national banks, as well as private commercial lending sources. Accordingly, we can arrange short-term and long-term financing of mixed use development projects.
Short-term loans (construction and bridge loans) also have standard terms. For example, these include:
Term: 6 to 18 months.
Interest Rate: 4% to 12%.
Lender Fees: 1% to 3% origination fee, 1% exit/extension fee, 1% prepayment penalty.
Amortization: Typically none, interest only.
Minimum DSCR: 1.05.
Maximum LTV: 70% to 90%.
Eligibility: Credit score 550+, no subordinated debt.
Approval Time: 5 to 45 days.
Mixed Use Development Loans from Assets America
Assets America® has the experience and resources to provide full life cycle lending for mixed use development projects. Additionally, we can provide a mixed use property loan for the construction. We also do financing for rehabs, acquisition or refinancing of mixed use real estate, even if you don't qualify for a standard institutional loan.
FAQs – Mixed Use Development Mortgages
What are the benefits of mixed use development?

There are numerous benefits to developing spaces with both residential, community, and commercial properties, including but not limited to: Increased housing options that cater to a wider range of tenant demographics.
Increased walkability, bikeability, and general mobility.
Ability of tenants to age in place, that is to comfortably continue living at the same residence or community, presumably for decades. A strong sense of community. Reduced commutes to grocery stores, schools, gyms, and all other locations visited on a regular basis.

What is vertical mixed use development?

It is mixed-use space that combines different uses within the same building, often seen in cities where an apartment building has a storefront or a cafe′ on the ground floor.

What is horizontal mixed use development?

It is mixed-use space that combines different uses across the same parcel of land, often anchored around a particular commercial building, such as a community center.

What is horizontal mixed use development?

It is mixed-use space that combines different uses across the same parcel of land, often anchored around a particular commercial building, such as a community center.

What are common examples of mixed use developments?

In the United States, the most popular kinds of mixed use developments are residential areas with commercial zoning for grocery stores and convenience stores, Main Street areas where the majority of buildings employ vertical mixed use development, and office convenience spaces that provide residential space close to business parks or other commercial activity.

What is "functional mix"?

It refers to mixed-use development, centered on a "live-work-visit" trifecta of community development.

Where can I learn more about efficient and thoughtful community planning?

Two established schools of thought, New Urbanism and Intelligent Urbanism, are overlapping theories of urban design often used by mixed use developers to ensure the highest and best use of developable land. Though less well-known, you may also want to check out the design principles of Smart Growth.

</l

Glossary of Mixed Use Development Terms

| Term | Definition |
| --- | --- |
| A-Grid | A through-way (road or walkway) where foot traffic is of primary importance |
| Aging In Place | An increasingly popular term, it refers to the ability of tenants to comfortably live in a single community for an extended period of time, regardless of age, race, or any other demographic |
| B-Grid | A through-way (road or walkway) where foot traffic is of secondary importance |
| Buffer Zone | A strip or region of land between two properties that mitigates the effect of the properties on each other; for example, a water treatment facility requires an appropriately spacious buffer zone from residential communities |
| Charrette | A meeting between residents, architects, community planners, developers, etc. in order to ensure a common vision for construction and/or continued development |
| Easement | An agreement that allows one property owner to use, have access to, or develop parts of an adjacent property, as when an electrical company builds power lines through a neighborhood |
| Highest and Best Use | Refers to the optimal development of a land parcel in order to generate the most profit |
| Level of Service | A rating system (from Level of Service A to Level of Service F) that designates the amount of traffic, both pedestrian and vehicular, that a particular thoroughfare can safely and smoothly accommodate |
| Tenant Improvements (TI) Allowance | Changes made to a multifamily or mixed use property, by the owner, to accommodate the needs of the tenants; typically commercial leases include an allowance for TI |
| Variance | An exception to zoning regulation granted in extenuating circumstances |
| Zero Lot Line (ZLL) | A zoning approach in which an undeveloped parcel of land is sited on one or more lot lines, allowing for flexibility during the development/construction phases |
| Glossary of Mixed Use Development Terms | |

Online Resources

Related Articles

Contact Us

In conclusion, we understand that each project is unique. Consequently, you will benefit from our customized service. Our financial services can also provide the best mixed use development financing package. Accordingly, we invite you to contact us today for a no-obligation consultation and proposal. We strongly urge you to call today at (206) 622-3000! We also look forward to hearing from you!