Master Planned
Communities
From inception through completion, Assets America® arranges financing for large, complex, multi-phased Master Planned Communities projects requiring an aggregate of $50 million to $500+ million and beyond. Master Planned Communities ("MPCs") are large-scale, residential neighborhoods with numerous amenities. MPCs may include a combination of for-sale products (such as single-family residences, townhomes and condominiums) and may additionally include for-rent properties such as apartment buildings, retail shopping centers and other for-lease, commercial investment properties which the developer may hold long-term in his real estate portfolio. They may also include walking parks, tennis facilities, golf facilities, recreation centers, swimming pools, ponds, lakes and other visually aesthetic water features, restaurants, shops, community centers and local community gathering places.
Video: What is a Master Planned Community?
Master Planned Communities – Acreage Size
Typically, an MPC occupies a minimum of 25 acres up to thousands of acres and provide many, if not most, of the resources needed by their residents so that the community becomes essentially self-contained. These additional MPC resources are extremely useful and very convenient for their residents.
Apply For Financing
Master Planned Communities vs Residential Subdivisions
Master Planned Communities are a type of residential subdivision. However, MPCs differ from plain vanilla, residential subdivisions by the presence of a homeowners' association ("HOA") and by a greater number of on-premise amenities. HOAs are helpful for MPC marketing because they ensure a high level of service and convenience and uniformity throughout the project. HOAs typically maintain the common areas and front yards and landscapes, and Master Planned Communities HOAs control design, signage, material and color options as well.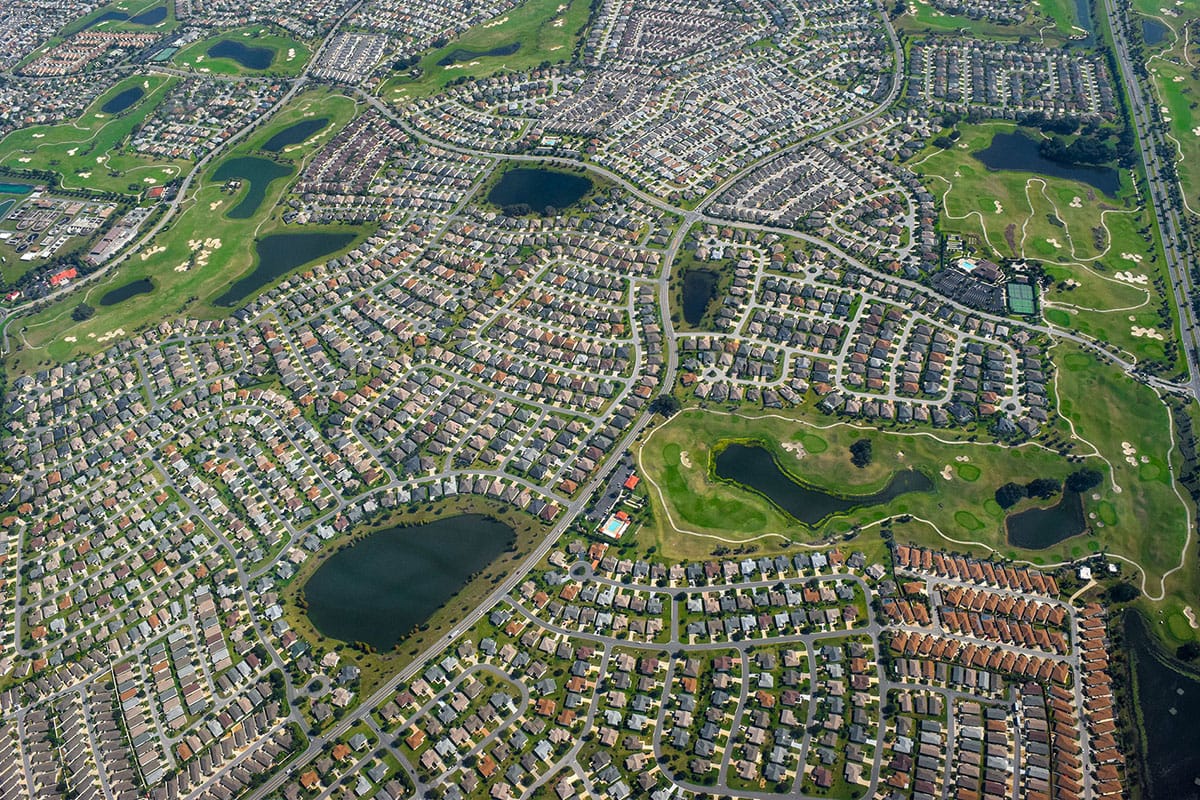 Master Planned Communities – Initial Considerations
In the early stages of a new master planned community, certain fundamental considerations must be evaluated, including:
Location, location, location! How close to a metropolitan city, how far out in the suburbs, etc.
The land and its natural features, including challenges and opportunities presented by terrain, floodplains, drainage, wetlands, endangered species, and sensitive habitats
The legal context, including zoning, regulations, thoroughfares, rights-of-way, easements, environmental constraints and restrictive land use covenants
MPCs should have a sustainable design, with emphasis on reduced grading, native species, walking opportunities and efficient water usage
Aesthetics that address issues of cohesive design, customization opportunities, color schemes and style genres
MPCs should have features for recreation, education, dining, shopping and religion
Demographics of potential buyers and renters, including wealth, age restrictions, public school requirements and health care support
Budget/schedule, including property segmentation, amenities and financing phases
It is important that marketing plans define and target the desired demographic(s)

Master Planned Communities Financing – Property Segmentation
MPC Financing typically encompasses a segmented strategy with several structure types, including:
Townhouses:  Townhouses generally have two or more floors and share common walls. These units are often sold as condominiums, in which the owner owns just the interior of the unit and the condominium corporation owns the external structures and common areas. The developer can also keep them in their real estate owned portfolio as a for-lease, investment property.
Single Family Residences:  These are typically detached homes that, along with the surrounding land, are sold by Master Planned Communities' developers to the new resident/owner. In some cases, single family homes may have zero lot lines, meaning the residence reaches to the lot line with little or no additional land.
Multifamily Properties: These are typically large, apartment buildings. The multifamily buildings is setup as a "for rent" property with multiple floors.
Retail Shopping Centers & Commercial Spaces:  Commercial spaces and retail shopping centers are leased to store owners, offices and restaurants within the Master Planned Community. Such tenants may include dry cleaners, pizza restaurants, coffee shops and other such stores that add significant convenience.
Common Buildings:  This category includes clubhouses, lodges, health centers and other buildings shared by all residents.
The Advantage of Property Segmentation
Segmentation is a smart play because it diversifies risk between for-sale and for-rent (or for-lease) product that might behave differently when economic conditions change. It appeals to a wider customer base rather than just buyers of single family residences, townhomes or condos. Market supply and demand, economic conditions, interest rates and other factors change over time and can tip the balance toward ownership or rental. Segmentation provides a way to benefit in either case, creating an economic, development buffer.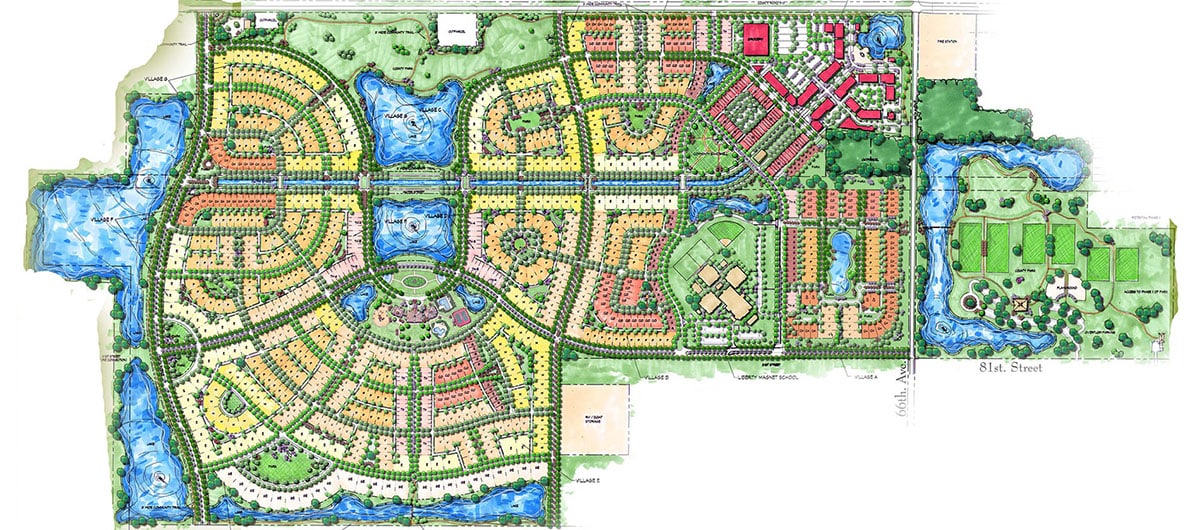 Master Planned Communities – Amenities
An important way that Master Planned Communities appeal to buyers and renters is a generous collection of in-demand amenities. These amenities should enhance the lifestyles of their residents. Outdoor spaces offer many opportunities for amenities, including:
Walking trails
Biking paths
Horseback riding
Hiking
Jogging
Dog parks
Tennis courts
Golf courses
Soccer fields
Baseball diamonds
Outdoor pools
Community gardens
Structures such as community centers, health clubs, business centers, lodges, and auditoriums provide ways to strengthen resident ties. Accordingly, these structures reduce turnover and help stabilize and increase home prices and rents.
MPCs often make arrangements to put stores and restaurants directly on the property. Failing that, they ensure the stores and restaurants are within easy walking or driving distance. The Master Planned Communities' construction phases may include commercial rental structures which serve as a source of rental income for the developers. They can be held in their long-term investment portfolio while providing nearby amenities for residents. MPC management might also take an active role in programming events to entertain and educate residents.
Upscale Master Planned Communities with more expensive properties may offer augmented security features, including gates, fences, guards, closed-circuit TV, card-keys and alarm systems.
Infographic: 5 Benchmarks of Successful MPCs

Master Planned Communities for Seniors
Senior Master Planned Communities typically restrict buyers and tenants to those people aged 55 years and above. They frequently offer various degrees of health support, including:
Walk-in clinics
Assisted living
Home health services
Nursing homes
Alzheimer's support
Hospice
Master Planned Communities Construction Loans
Master Planned Communities construction loans are typically allocated in numerous phases (multi-phased). Even in a multi-phased project, considerable funding is required up-front for property infrastructure. Examples include land preparation, utilities, MPC sewer systems and sewer lines, roads, curbs, sidewalks and so forth. Banks and large private equity firms usually source Master Planned Communities construction loans. These entities make a distinction between for-sale product and for-rent product.

Master Planned Communities For-Sale Properties
For-sale properties include single-family residences, townhomes, and condominiums. Financing for these properties starts with MPC construction loans, which typically run for 12 to 18 months. These are interest-only construction loans. Upon the closing of each of these individual property sales to homebuyers, the sales proceeds pay down the construction loans. They do so through a financial vehicle known as a partial release. The partial releases allow the main MPC construction loan to continue during the sales cycle for that phase, while paying down the loan as each property sells.
For the sake of convenience, lenders often set up revolving loan facilities that fund MPC multi-phased construction projects. Homeowners and condo owners secure their own residential mortgages to finance their purchases. This strategy eliminates the need for mini-perm or permanent take-out loans. In multi-phased projects, developers can pledge the land, infrastructure and unsold MPC phases as collateral for subsequent construction phases.
Master Planned Communities Rental Properties
Master Planned Community construction loans pay for the development of MPC rental properties, with interest rates and terms similar to those on for-sale properties. However, once the for-rent property receives its Certificate of Occupancy, the developer will request and convert the construction loan to an MPC mini-perm loan. After the for-rent MPC multifamily property or MPC retail shopping center property has reached stabilization (that is 90% to 95% leased for a minimum of 90 days), Assets America® can arrange for a commercial property take-out loan to pay off the construction loan or MPC mini-perm loan. MPC mini-perm loans typically have terms from 18 to 30 months. At that point, a take-out loan replaces the mini-perm loan. Take out loans can finance the rental property for 5 to 30 years. Both types of post-construction loans are amortizing, though sometimes interest-only loans can be requested as well.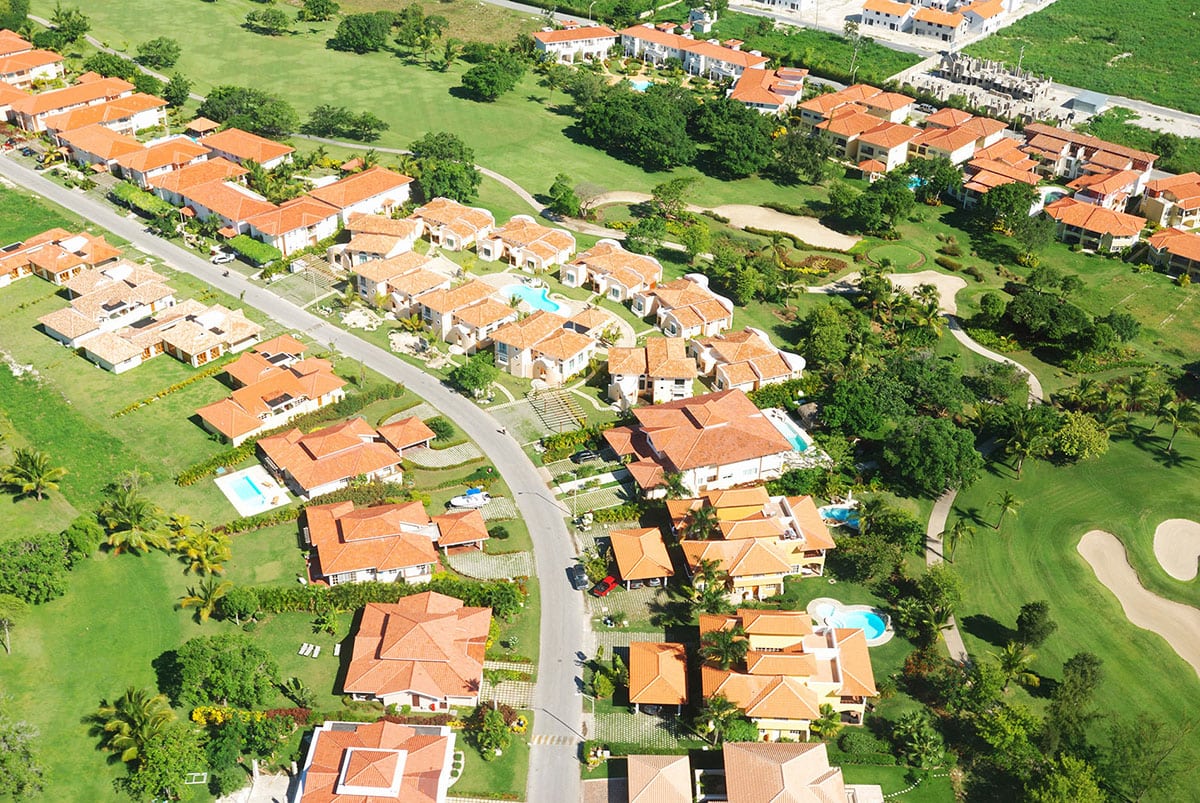 Master Planned Communities Terms
| Term | Definition |
| --- | --- |
| Adaptive Reuse |  The process of converting an old site or infrastructure for a purpose other than its original design |
| Active Living Community | A group of MPC residents with opportunity to incorporate physical |
| Building Envelope | Not to be confused with the building envelope for a physical structure, the building envelope for land is the maximum three-dimensional space on a zoning lot within which structures are constructed |
| Build-Out | The development necessary to make a structure complete and ready to use; development of land to its full capacity |
| Discretionary Review | A special power of municipal governments to change or prevent a proposed project even though it complies with local zoning, although it can only be utilized in exceptional circumstances |
| Feeder Roads | MPC roadways that connect the community to major roads |
| Fair Market Value | The price that a property would sell for on the open market, given a reasonable understanding of relevant metrics |
| Geographic Information Systems (GIS) | Computer-based software to display and interpret geographic and population data |
| New Urbanism | An urban design movement promoting environmentally friendly practices via walkability and the incorporation of a range of housing types |
| Offsite Improvements | Elements like streets, curbs, gutters, sidewalks, median trees, fences and other improvements located just beyond the zoning area |
| Scenic Highway Corridor | Also called a national scenic byway, it is the area bordering interstate roads and highways within visibility of motorists |
| Street Furniture | A collective term for features installed along roadways for various purposes, as benches or lamp posts |
| Transect Planning | A model derived from New Urbanism, the transect is a series of zones that transition from sparse rural farmhouses to the dense urban core |
Related Articles
Online Resources
Contact Us
If you are interested in arranging financing for a large, Multi-Phased, Master Planned Community Project, we urge you to contact Assets America® for a detailed discussion.  We're confident that we can obtain excellent terms on the Master Planned Community funding you need. It doesn't matter how detailed and complex your request is. Call (206) 622-3000 today!