Assets America® provides aircraft financing, starting at $10 million, for personal use, business and corporate use and commercial aircraft. Securing aviation financing and airplane loans is our commitment. Assets America® personally crafts and closes deals on aviation new builds, acquisitions, and refinancing for high-value aircraft including jets, turboprops, helicopters and aircraft fleets. When you are considering financing an airplane, look no further than Assets America® for some of the most flexible airplane financing and jet loans in the US aircraft finance market. In this article, we will discuss:
Business Aircraft Markets
Corporate Aircraft Financing
Commercial Aircraft Financing
Types of Aircraft We Finance
Helicopter Financing Aviation Financing (Including Leases and Loans)
Aircraft Loan Calculator
Airplane Financing Terms
Airplane Financing Companies
Aircraft Financing Banks and Lenders
Infographic: 5 Keys to a Successful Loan Application
Online Resources
Business Aircraft Markets
Corporate
Businesses use and own corporate aircraft for their own purposes rather than commercial enterprises. Typically, corporate aircraft transport individuals connected to the business. For example, this includes employees, directors, customers, vendors and others. Corporations may own or lease their own aircraft. Alternatively, they may make arrangements with a third-party operator.
There are several classifications of corporate jets. For example, these include:
Large jets typically carry up to 14 passengers with pricing starting above $30 million, whereas long-range jets carry up to 19 passengers and cost $60 million on average. We will be happy to arrange aviation financing for your next corporate aircraft of $10 million or greater. You'll find our aircraft financing services superior to what you usually receive from other aircraft financing companies.
How Assets America® Can Finance Your Request!
We invite you to contact Assets America® for the best deals in private, corporate, and commercial aircraft financing. Assets America® leverages a large nationwide network of aviation lenders for airplane loans, including but not limited to: private money funding sources and institutional funding sources both for loans and leases. Accordingly, we can provide you with low margins over the 30-day SOFR for up to 100% of the aircraft's value!  Finally, we can provide operating and capital leases that may be customized to perfectly fit your needs.
Assets America® ticks all of these boxes when it comes to airplane financing! Our minimum aircraft transaction starts at $10 million with absolutely no maximum limit (the larger, the better we say), limited only by your financial qualifications. Our team of private lenders and institutional funding will provide you with an extremely competitive bid quickly and efficiently. Call us today at (206) 622-3000, or simply fill out the below form for a prompt response!
Apply For Financing
Commercial
Carriers use commercial aircraft, also known as airliners, to transport cargo and passengers in commercial service. The largest non-military aircraft are commercial aircraft, and they include wide-body jets with two or more aisles. On the other hand, shorter flights utilize smaller jets and narrow-bodies. Additionally, some carriers employ turboprop aircraft and turbine aircraft for their shortest routes. The three main markets for commercial aircraft.
For example, these include:
Scheduled: These are the familiar carriers including Delta, United, American and so forth. It also includes regional carriers such as Alaska Air. Scheduled passenger flights sell tickets to passengers, follow pre-established routes and schedules, and offer connecting flights to cover a network of destinations.
Charter: Charters arrange flights on demand for customers. They fly smaller aircraft, although large chartered flights are available using large jets. Customers dictate destinations and schedules. VIP airliners are the largest charters. They accommodate large groups such as sports teams, press corps and entourages. Makers of VIP Airliners include Airbus, Boeing and Embraer.
Freight: Large cargo carriers like Federal Express and UPS maintain their own fleets of aircraft for hauling freight. The aircraft have been specially fitted to maximize cargo volume consistent with the plane's weight limits.
Turn to Assets America® for commercial aircraft financing with some of the lowest aircraft financing rates from through our numerous aviation and aircraft financing sources including, but not limited to: commercial finance banks, private money funding, and numerous other sources.
How to Buy Your First Preowned Business Jet
What Types of Aircraft Can We Finance?
Assets America® provides airplane loans from $10 million to $200+ million. Naturally, we can provide much greater commercial aircraft financing for aircraft fleet purchases. We bring aviation financing and aircraft purchase expertise to companies looking for any type of airplane loan, jet lease, or aircraft purchase. Here are the typical aircraft for which we provide airplane loans and services.
Turboprop
A turboprop is an airplane with a turbine engine that drives a propeller. Unlike a jet, the engine's exhaust gases are insufficient to create enough thrust since. Instead, the energy turns the propeller. A compressor forces air and fuel into a combustor where it ignites, which then generates power to drive the propeller and the compressor. Additional thrust comes from a propelling nozzle that exhausts gases to the outside. The most popular single-engine turboprop is the Pilatus PC-12, whereas the leading multi-engine turboprop is the King Air 200.
Turbofan Jet Plane Loans
A jet aircraft has one or more turbofan engines. Specifically, these are air-breathing jet engines that use a gas turbine to feed mechanical energy into a fan that provides thrust. Only some of the intake air travels through the turbine, while the remainder routes directly to the fan. We provide airplane financing for a variety of jets. For example, these include:
Learjet
The Learjet 70 and 75 are light jets manufactured by Bombardier, a Canadian aircraft maker. Learjets have powerful, fuel-efficient engines, winglets and advanced avionics. They hold a crew of 2-8 passengers, with a maximum takeoff weight of 21,500 lbs and a cruising speed of 535 mph. Finally, the Learjet 70 and 75 cost more than $10M each.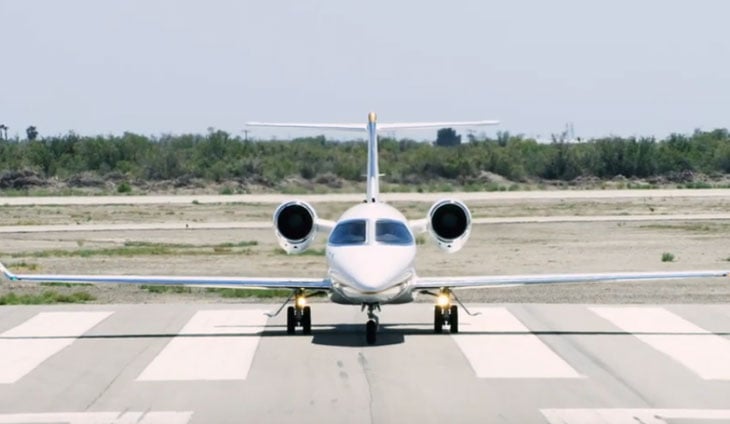 Gulfstream
Gulfstream, a division of General Dynamics, makes a lineup of jets that includes the G280, G350, G450, G500, G550, G600, G650, G650ER and their new, top of the line G700. All can hold up to 19 passengers except for the 10-passenger G280. The Gulfstream G650 (see image below) is one of the company's largest and fastest business jets. It has a price of almost $70 million, a cruise speed of 610 mph, and a maximum takeoff weight of 99,600 lbs. The 650ER is an extended range version with an additional 4,000 lbs. of takeoff weight.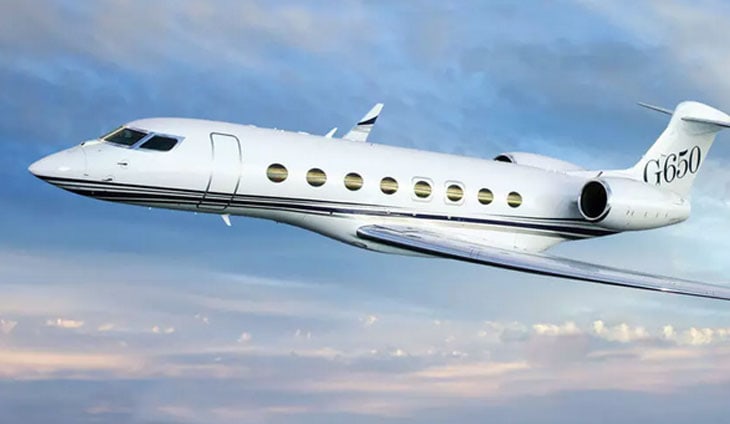 Bombardier
This Canadian aircraft manufacturer makes several business and commercial jets. The largest business jet is the Bombardier Global Express, and commercial jets produced include the Bombardier CRJ series and the Airbus A220 series. The CRJ1000 sells for around $50 million.
Dassault
This is a French manufacturer of the Falcon family of business jets. Its most impressive jets are the Falcon 7X and 8X large cabin tri-jets. Top travel range is 7,400 miles, and individual jet prices are north of $50 million.
Boeing
The Boeing Commercial Airplanes Division makes business jets and airliners. The BBJ family of narrow-body business jets are derived from the Boeing 737 airliner. Wide-body VIP models are based on the commercial 747, 777 and 787 airliners. Boeing also makes the 767 model. The Boeing 787-10 Dreamliner aircraft sells for about $326 million (see image below).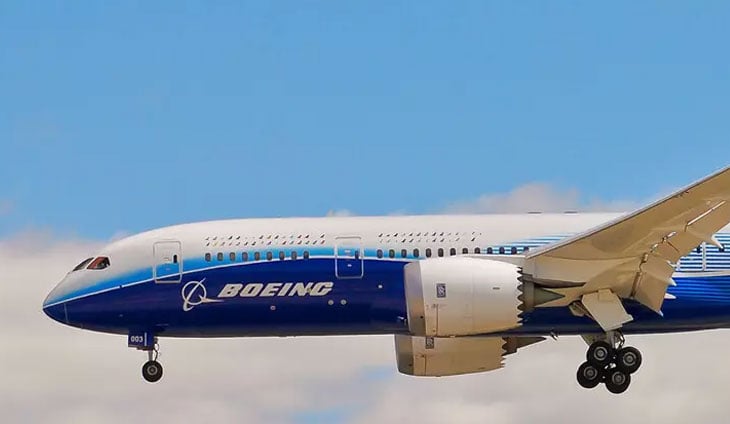 Airbus
This is a European manufacturer of the A-Series of commercial airliners. The top model is the Airbus A380 (see image below), a huge widebody, double-decker with four jets that is currently the world's largest passenger airliner! You can own one for a cool $445.6 million, and we can arrange both the aircraft sale and financing for you.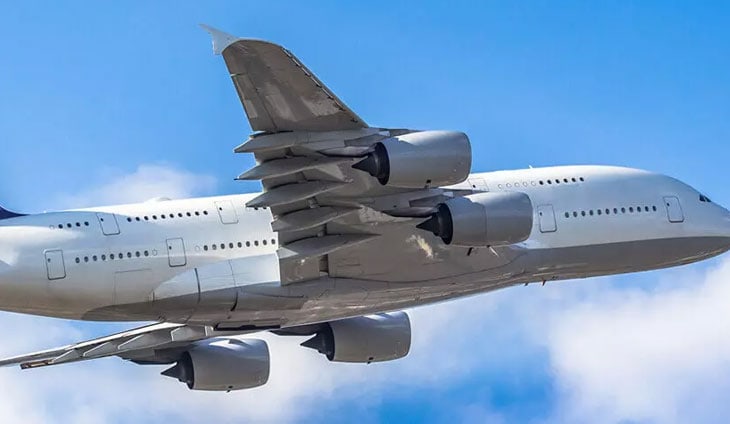 Helicopter Financing
A helicopter is a rotorcraft that can take-off and land vertically, fly in all directions and hover. There are many variations on the design of the rotors, cabins and engines. American helicopter manufacturers include Boeing, Textron (Bell), Lockheed Martin (Sikorsky), MD, and Kaman. A typical executive helicopter is the Lockheed Martin Sikorsky S-76D (see picture below) powered by a pair of Pratt & Whitney engines, good for a 11,700 gross weight and top speed of 178 mph. It seats 13 and prices start around $10 million.
For more information, you can read this Guide to Helicopter Financing (coming soon) or this Guide to Helicopter Leasing (coming soon). Additionally, read this post on How Much Does a Helicopter Cost? (coming soon).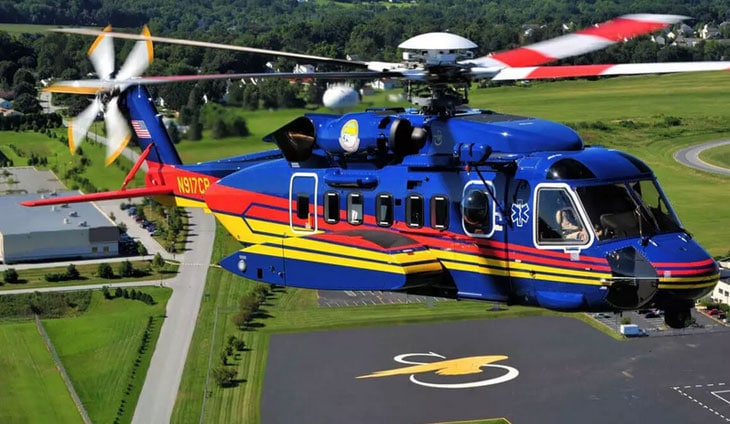 Aviation Financing
Aircraft are purchased or leased. Sources of financing include:
Leasing Companies
Capital Markets
Commercial Banks
Export Credit Agencies
Private Equity/Hedge Funds
Tax Equity
Insurance Companies
Airframe and Engine Manufacturers
Aircraft Leasing
There are two major types of aircraft leasing:
Wet leasing: The lessor (for example, an airline) provides aircraft, crew, maintenance and insurance to the lessee (another airline or other business) that acts as an air travel broker.
Dry leasing: The lessor is an aircraft financing company that provides an aircraft without the crew and other features of a wet lease. Lessors are usually banks and leasing companies. The typical term is two years. Often, this is the term length for leases between a major and a regional airline.
Both capital and operating leases are available. A capital lease usually ends with an ownership transfer to the lessee, whereas the airplane reverts to the lessor under an operating lease. There are exceptions, however, as when the lessee chooses to renew the lease or purchase the aircraft.
Aircraft Loans
Secured commercial aircraft financing is a common way to arrange aircraft loans. Assets America® can arrange secured aircraft financing using a syndicate of banks and other loan sources. The aircraft then serves as collateral on the loan. Accordingly, the lender can repossess the aircraft in case of default. Ownership may be preferable over leasing to take advantage of depreciation. Other types of loans we can arrange include:
Revolving Loans
Warehouse Loans
Bridge Loans
Pre-Delivery Payment Loans
Aircraft-Backed Bonds/Enhanced Equipment Trust Certificates
Aircraft Loan Calculator
An aircraft loan calculator can help you figure your monthly payments for the aircraft. You simply enter the terms for your loan into the airplane loan calculator input fields.
The aircraft loan calculator will compute your payments based on your inputs. Also, the calculator can show you alternate payments for various loan terms (length of loan).
Airplane Financing Terms
There are several airplane financing terms you need in order to calculate your monthly payments. For example, these include:
Purchase Price:  The full price of the aircraft, as well as any closing costs that you roll into the loan.
Aircraft Type:  Some calculators give you term and rate guidance depending on aircraft type.
Down Payment:  Most loans require 15% to 30% down.
Interest Rate:  Interest rates can be as low at the mid-single digits for high-end bank financing up to low double digits for private money funding such as a hedge fund.
Term:  Normally, terms are 10, 15 or 20 years.
Aircraft Financing Companies
There are many types of aircraft financing companies that you can consider. When deciding on an airplane financing company, you will do well to demand certain characteristics. For example, these include:
The ability to fund even the largest purchase
Flexible terms that suit your circumstances
Understanding the requirements of the International Registry and working with you to satisfy them
Competitive rates
Fast approval and issuance of a term sheet
Ability to finance upgrades and add-ons to your purchase
A long history in commercial financing with a very high success rate
Aircraft Financing Companies
It helps to make a good impression when dealing with aircraft financing banks and other aircraft lenders. Before you ask for a loan, you should assemble the kind of information that aircraft funding sources seek. Typically, they will ask to see your financial information, including recent tax returns along with a personal financial statement and a corporate financial statement if you are requesting financing on a corporate jet.
They will also look at your current debt and your current credit rating. Therefore, you will want to pay down debt to acceptable levels before applying. If your credit rating is low, then consider taking on partners or co-signers for the loan. In addition, a larger down payment may facilitate loan approval even when your credit is less than stellar. Finally, be willing to accept a recourse loan to help assure aircraft financing banks of your willingness to proceed forward and of your overall credit character.
Infographic:
Aircraft Financing – 5 Keys to a Successful Loan Application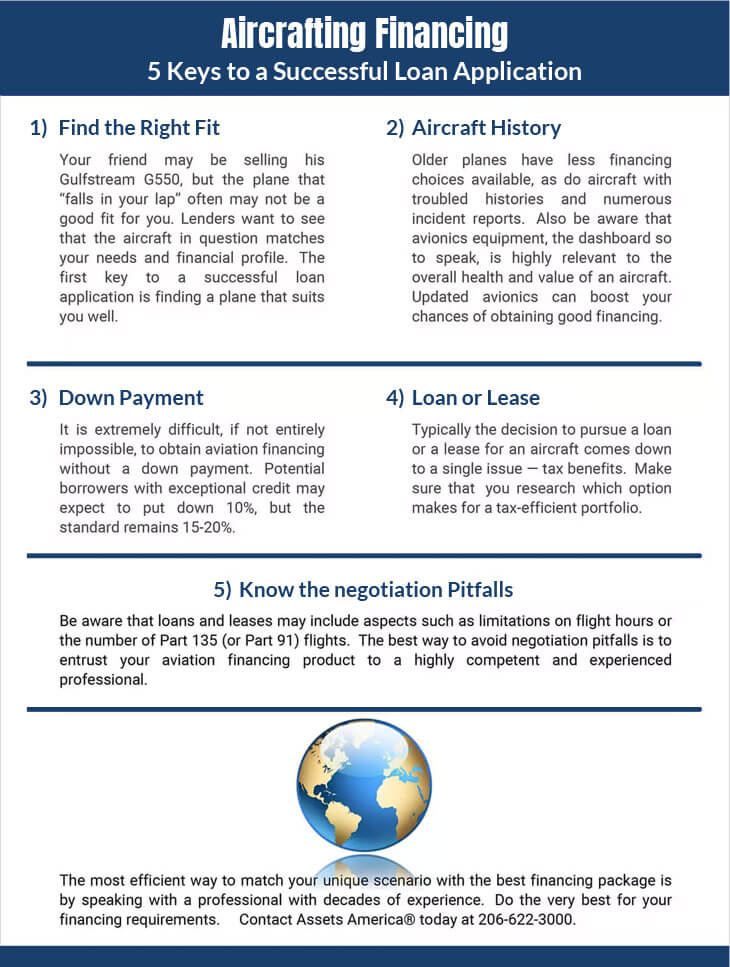 Aircraft Financing Glossary
| Term | Definition |
| --- | --- |
| Accelerated Depreciation | The practice of depreciating an asset more in earlier than in later years. This allows a company to reduce its tax payments, improving cash-flow during the early years of an asset's use |
| Aircraft-backed Bonds | Also called aircraft asset-backed securities (Aircraft ABS), these securities allow lessors to finance large portfolios of commercial aircraft with attractive debt pricing |
| Breakage Costs | Also called a prepayment penalty, it is the fee a borrower must pay to the lender for pre-paying a fixed rate loan, though only in cases where the loan agreement had a prepayment penalty clause |
| Enhanced Equipment Trust Certificates | A financial security used to finance containers used for shipping and offshore businesses, and aircraft purchases |
| Half Life | A component or piece of equipment of an aircraft reaches its half life when precisely midway between installation and replacement |
| Incoterms | A set of pre-defined commercial terms published by the International Chamber of Commerce (ICC) relating to international commercial law |
| Institutional Investors | Investors such as banks, insurance companies, trusts, pension funds, foundations, and educational, charitable, and religious institutions |
| Learning Curve | The trend of major manufacturing programs experiencing higher costs in the earlier phases of production than in later years, as production processes improve; in effect, cutting-edge technology is exponentially more expensive to manufacture and/or purchase |
| LIBOR | The "London Interbank Offered Rate" is an index used to determine the cost of various variable-rate loans, including in the US; it can be found in the Wall Street Journal |
| Pre-Delivery Payment Loan | Also called Aircraft PDP Financing, this refers to the process of purchasing an aircraft from a manufacturer before the product has reached completion |
| Origination Fee | The fee imposed by lenders to draw up the loan documentation; origination fees are typically 1 basis point, so the fee for a $400,000 loan will be ~$4000 |
| Revolving Loans | A type of loan that allows for the principal to be withdrawn, repaid, and redrawn again as many times as the borrower wishes within a certain time frame |
Online Resources for Airplane Loans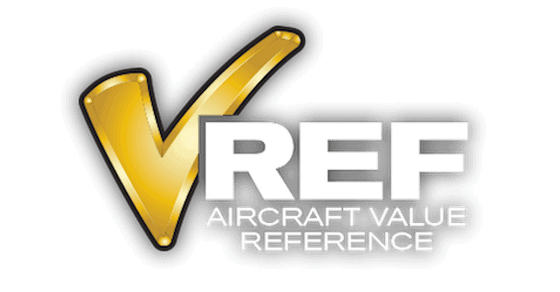 Related Articles
Sale Leasebacks – Everything You Need to Know (Coming Soon)
Helicopter Financing – Ultimate Guide (Coming Soon)
How Much Does It Cost to Buy a Helicopter (Coming Soon)
PDP Financing — Everything You Need to Know (Coming Soon)
Best Private Jets – Top 4 Luxury Aircraft in 2020