How Much Does a Private Jet Cost? | Ultimate Breakdown Guide
September 04, 2019
Call it a private jet, a business jet, or a luxury jet. All these terms apply to a jet you own or lease. Primarily, the reason to own a private jet is to be able to fly when and where you want. That is, you don't have to worry about airline schedules, long lines, or chartered airplane availability. Typically, your only travel constraint is weather. For many well-to-do individuals, the annual cost of owning a private jet is well worth it. But how much does a private jet cost? In this article, we'll answer how much does it cost to own a private jet? Also, we'll consider the other expenses that figure into the annual cost of owning a private jet. Explicitly, we'll evaluate the cost of a private jet from a list including:
Learjet 75
Dassault Falcon 8X
Gulfstream G550
Bombardier Global 7500
Gulfstream G650ER
Then, we'll see "How much does it cost to charter a private jet?" Finally, we'll answer some FAQs and conclude with a word about financing a private jet purchase. When done, you'll better understand how much does a private jet cost.
How Much Does It Cost to Own a Private Jet?
How much does a private jet cost? When we consider private jet cost, we must include several factors. First are the upfront costs, including the purchase price, insurance, and financing costs. But that's just the start of the annual cost of owning a private jet. Clearly, you will need to include ongoing costs, such as fuel, maintenance, and personnel. If you don't fly the business jet yourself, you'll need to pay for a pilot, and probably a stewardess. Of course, you'll want to fully stock your business jet with food, drinks, and other consumables. Additionally, there might be costs for luxury jet storage, repair, licensing, airport fees and other miscellany.
Apply For Financing
Types of Private Jets
There are three classes of business jets:
Small jets have a range of 2,000 to 3,000 miles and seat up to four passengers.
Medium jets have a range of 4,000 miles and seat up to eight passengers.
Large jets have a range of 7,000 miles and seat 12 passengers, or more.
Purchase Price
Broadly, the cost of a new luxury jet ranges from approximately $2 million to $100 million or more. With additional options and upgrades, the price can reach several hundred million dollars. However, keep in mind that 85% of purchases are for used private jets. It could be that many buyers find that they don't use the luxury jet enough to justify keeping it. Sometimes businesses experience cashflow problems and sell their business jet fleet to raise cash.
Several factors figure into the private jet cost of purchase. For example, these include:
Jet make, model, and year
New or used
If used, flight hours, condition, and accident history
Optional features and upgrades
Upfront Costs
Upfront private jet cost includes the down payment or the full purchase price. If financed, you'll pay closing costs, and perhaps an aircraft broker's fee. Naturally, the more upgrades and add-ons you choose, the higher the private jet cost of purchase. Depending on the model of private jet you purchase, you might pay extra for items. For example, these may include:
In higher-priced luxury jets, some of these features may come standard. However, the universe of add-ons is virtually limitless, and can quickly balloon the private jet cost of purchase. In addition, you may have to add equipment to satisfy newly mandated requirements, like ADS-B Out and FANS 1/A.
Cost to Operate a Business Jet
Part of the cost includes aircraft operation. There are many operational costs you'll face when you buy a private jet.
Hanger Fees
Hangar fees depend on location. In less-populated locations, you might pay from $50,000 to $100,000 per year. However, at large international airports, fees can double in size. For example, Los Angeles Airport will cost you $160,000 a year to hangar your private jet. To save money, you can tie down your private jet outdoors instead of keeping it in a hangar. But this exposes the jet to the elements and indicates that maybe you can't afford the aircraft. For more information, read this excellent overview of options to hangar your private business jet.
Insurance
Of course, you'll have to pay for insurance, including hull insurance and single limit liability. Figure costs around roughly $50,000 per year, but could be considerably higher with more flight hours, age, value of the asset, etc. Typically, larger luxury jets will require higher insurance premiums. Because you purchase in advance, insurance is both an upfront and a recurring cost.
Jet Fuel
Jet fuel prices can vary greatly over time. For 2019, Jet-A fuel averaged around $80 per barrel. Average fuel consumption per hour varies by jet model and size, weather conditions, and climb and drag rates. Other factors include altitude, speed, take-offs and landing, and weight of cargo and passengers. Average fuel consumption in gallons/hour are:
Light jets: 77-239
Medium-sized jets: 233-336
Long-range jets: 358-672
Filling the gas tank of a long-range jet might cost you more than $50,000. Naturally, you can squeeze out better fuel efficiency by buying the latest technology. Also, you can fly less frequently and adapt your flying techniques to maximize efficiency.
Maintenance and Repair
The private jet cost to maintain and repair your aircraft will depend on several factors. The age, flight-hours, and condition of the jet influence maintenance costs. Larger, more complicated aircraft might require more expensive maintenance. Other factors include the jet's location, average usage per month, frequency of maintenance, and risk aversion of the owner. Clumsy landings can push up repair costs, as can heavy utilization and the average number of passengers. Naturally, if you serve food and alcohol on your private jet, you might need to frequently clean the cabin. Like auto parts, replacement part prices for a jet can range from minor to substantial.
Conservatively, you should expect to spend from $700,000 to $4 million per year on maintenance and repair. However, the actual private jet cost will depend on your unique circumstances and experiences.
Annual Private Jet Cost of Ownership
The annual cost of owning a jet depends on financing, hangaring, flying time, insurance, upgrades, and other costs. Also, your costs will depend on your maintenance schedule, repairs, and flying style. For example, fast steep ascents burn more fuel than less aggressive maneuvering.
All factors considered, the annual operational costs for owning a private jet can range from $1 million to $5 million. However, large expensive jets might have considerably higher annual ownership costs. Remember that purchased jets are depreciable. For private jets (FAA Part 91 aircraft), the recovery period is six years, much shorter than their useful lifetimes.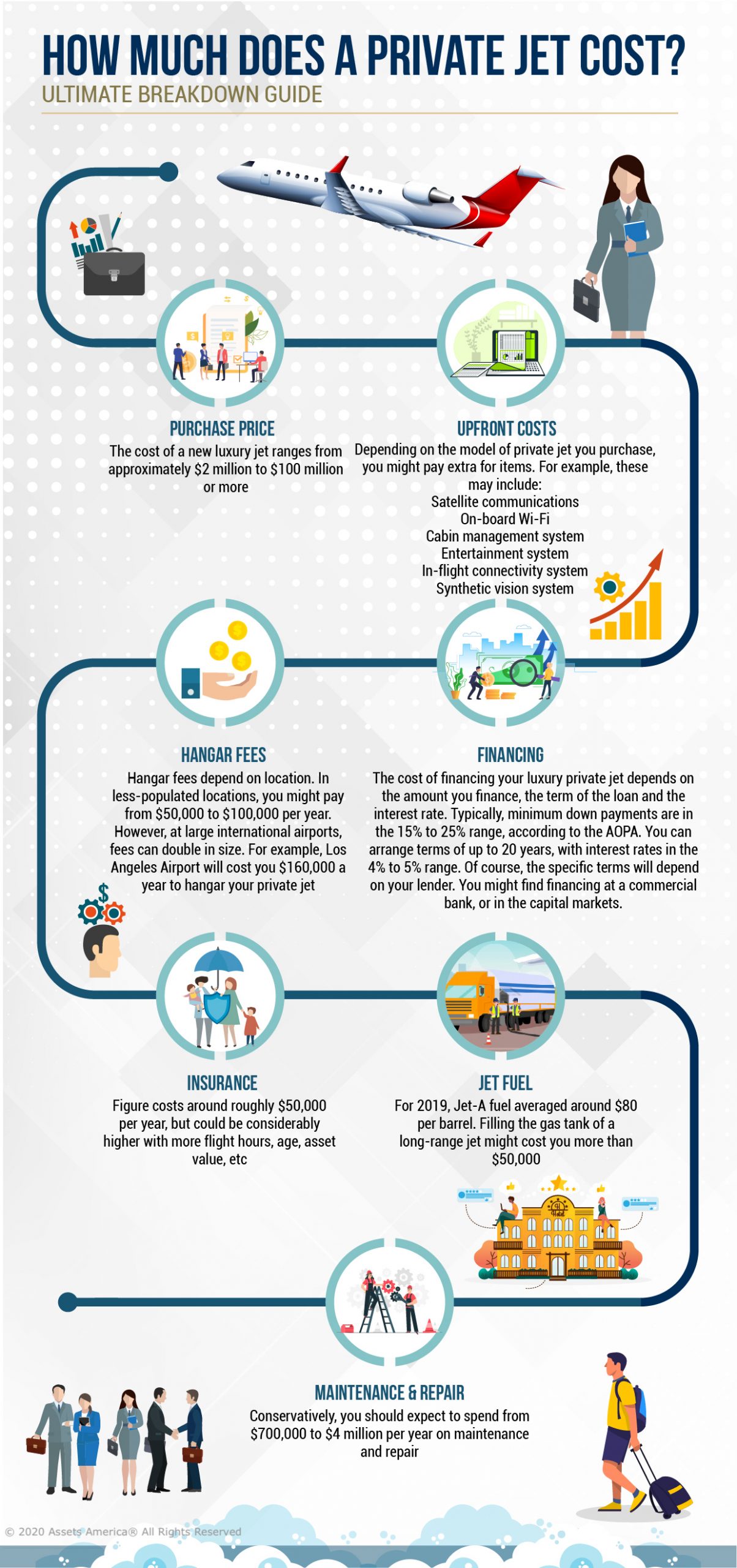 Financing for a Luxury Business Jet
The cost of financing your luxury private jet depends on the amount you finance, the term of the loan and the interest rate. Typically, minimum down payments are in the 15% to 25% range, according to the AOPA. You can arrange terms of up to 20 years, with interest rates in the 4% to 5% range. Of course, the specific terms will depend on your lender. You might find financing at a commercial bank, or in the capital markets. Alternatively, you can finance via leasing companies, hedge funds, insurance companies, private equity firms, tax equity, and manufacturers.
We at Assets America® can arrange secured private jet financing from $10 million upward, without limit. Our network of banks and private funding sources compete successfully with other lenders. Your jet serves as collateral for the loan, which helps lower your interest rate.
Cost of Owning a Learjet 75
The Bombardier Learjet 75 is a light jet with an impressive range and large cabin. It is an upgrade from earlier Learjet models, with canted winglets that reduce drag. Also, it is lighter than its predecessors, helping to increase range by 4% to approximately 2,350 miles. The Learjet 75 seats nine passengers and achieves a maximum speed of 534 mph at up to 51,000 feet. It has a crew compliment of two.
Interestingly, the list price is $13.8 million, which is somewhat steep for its class. Naturally, pre-owned models cost less, with an average asking price just under $7 million. Notably, the average time a used model remains on the market is half a year. The average annual depreciation is about 12.5%, which is higher than the 10% industry benchmark. Importantly, the Learjet 75 operating cost is about $1,900 per hour, which is a little higher than competitors' costs. Partly, the higher operating costs is due to faster speeds leading to higher fuel consumption. Finally, annual fixed costs will be around $325,500.
Cost of Owning a Dassault Falcon 8X
The Dassault Falcon 8X is a large jet with room for up to 12 passengers. It features the longest cabin in the Falcon series, with extra comfort and a staggering thirty (30) unique, available layouts. In fact, the cabin is 43 feet long, 8 feet wide and 6 feet high. Importantly, the 8X has a longer range (7,238 miles) than does the 7X, without sacrificing fuel efficiency. Its maximum takeoff weight is 73,000 lb. In 2019, the cost of a new Falcon 8X is around $58 million, with used models starting at $50 million. Annually, fixed costs are a little over $1 million, while variable costs are roughly $1.44 million.
Cost of Owning a Gulfstream G550
The G550 is the most successful model in the Gulfstream line. It is a heavy business jet with a range of 7,768 miles. Its top speed is 0.885 Mach, powered by a pair of Rolls-Royce BR710 C4-11 engines. The cockpit features a heads-up display, PlaneView flight deck and enhanced vision system providing superior situational cognizance. Explicitly, the G550 requires 5,910 feet for takeoff and 2,770 feet for landing. Depending on the configuration, a new model sells for $61.5 million, although discounts might be available. Interestingly, a model from 2012 might cost around $28 million, depending on engine and airframe hours, condition, and maintenance. Fixed annual costs are about $1.5 million, with variable costs running around $8.50 to $9.00 per mile. Overall, the grand total annual cost is about $2.85 million, including cockpit subscription services.
Cost of Owning a Gulfstream G650ER
The Gulfstream G650ER is the world title-holder for a business jet's travel range at 8,630 miles. It can hold 18 passengers and reach a top speed of 0.925 Mach (709 mph). Interestingly, the extra range is thanks to larger fuel tanks that can hold an extra 4,000 lbs of fuel. You can upgrade the G650 to a G650ER by retrofitting the fuel tanks, a two-week job costing $2 million. You can buy a new G650ER for $66.5 million or a late-model used one for $55 million. Thus, this jet is holding its value quite well, and the market for used ones is tight. Explicitly, variable costs are about $3,660 per hour, for an annual variable cost of approximately $1.5 million. Moreover, the estimate for fixed annual costs is about $650,000. That creates an annual operating expense of more than $2.1 million before debt service and depreciation.
Cost of Owning a Bombardier Global 7500
The Bombardier Global 7500 is a good choice if you want a capable business jet with a long-range and customizable cabin. The cabin features 2,367 cubic feet in four zones with room for 19 passengers and 4 crew members. The travel range is 8,400 miles with a top speed of 0.925 mach. This model benefits from a high-lift system with double-slotted flaps and leading-edge slats. A new 7500 lists for $72.8 million. The annual operational fixed and variable costs total about $3 million. Add to that annual debt service of about $3.5 million and an equal amount of depreciation. Therefore, annual expenses are about $10 million.
How Much Does It Cost to Charter a Private Jet?
If you'd like to know how much does it cost to charter a private jet, it averages between $1,300 and $3,000 per flying hour. That's the price for chartering a light executive jet. However, you'll pay $4,000 to $8,000 per flying hour for a midsize jet. Furthermore, it costs up to $13,000 per flying hour for a large luxury jet. Unless you need to fly often, chartering might make more economic sense than purchase.
Video: The Economics of Private Jets
Frequently Asked Questions
Is it smarter to lease a private jet or own it outright?
Outright ownership allows you take depreciation deductions for your business jet. You can upgrade or sell the aircraft whenever you like. With leasing, you don't need to make a long-term financial commitment. Leasing an aircraft is less expensive than purchasing, but you might lock yourself in with a long-term lease. 
What is a sale leaseback?
A sale leaseback is when you sell an asset then immediately lease it back from the purchaser. It is a way of raising cash in return for future payments on the lease. A sale leaseback might make sense when you need cash but don't want to give up use of the asset.
How much is the cheapest private jet?
The Cirrus Vision Jet rings in at a modest $1.96 million. It undercuts its closest competitor's price by about 50%. The Vision Jet has a maximum takeoff weight of 6,000 lbs and can hold 2,000 lbs of fuel. The jet has a wingspan of 38.7 feet.
How much is the most expensive private jet?
Honors go to the Airbus A340-300 at a price between $350 million and $500 million. Astonishingly, the billionaire Alisher Usmanov owns one that holds 300 of his closest friends who fly at 567 mph. It has four engines and a range of 8,512 miles. Reports say the plane is more luxurious than the Ilyushin owned by Vladimir Putin.
How rich should you be to own a private jet?
The answer is seriously rich. With purchase prices in the tens of millions and steep operating expenses, it helps to be a billionaire. In fact, the average net worth of private jet owners is $1.5 billion. However, you don't have to be that wealthy if your credit is good, thanks to jet financing.
Private Jet Loans and Lending
Private jets are available for just about anyone with high net worth and/or good credit. If you can afford the annual upkeep, you might be able to secure financing for a private jet. Assets America® will be happy to arrange financing for your jet purchase. We offer top quality, professional service at competitive rates, so contact us today!
For more information, you can start with our Ultimate Guide to Aircraft Financing, then check out the recommended articles below.
Related Articles