The self-storage industry involves renting storage units to short-term renters typically on a month-to-month basis.  If you need to line up a loan for building storage units, Assets America® would love to be your financial partner on self-storage projects with minimum loans amounts starting at $10 million. 
The storage units may contain rooms, containers, lockers and outdoor spaces of various sizes and configurations. We can arrange storage facility financing when you need to be building storage units, as well as rehabbing or refinancing them. In this ultimate guide, we cover:
Current Market for Self-Storage Businesses
A Basic Business Model
Economics of Building Storage Units
How Much Does It Cost to Build Storage Units?
Cost To Build Per Square Foot
Financing and Refinancing
FAQs of Self-Storage Facility Owners
Online Resources
Glossary of Relevant Terms
You may also be interested in our Complete Guide to Commercial Storage Units (+ Financing).
How Assets America® Can Help
Don't miss out on this exciting opportunity. We can have you building storage units before you know it!  You may know that Assets America® is a leading commercial mortgage brokerage firm for all types of commercial real estate, but did you know that we also finance private and corporate yachts, large maritime vessels and blue-water platforms, aircraft and other large equipment. We can help you find, purchase, finance, both debt and lease, numerous types of asset classes starting at $10 million. Contact us today at (206) 622-3000 for additional information, or simply fill out the below form for a prompt response!
Apply For Financing
The Self-Storage Business
Storage facilities are found virtually everywhere in the U.S. They provide a valuable amenity because they allow individuals and businesses to store items that, for whatever reason, cannot be stored or accommodated elsewhere. Storage facilities often provide extra services, such as truck rentals and sales of moving and packing items.
Some storage facilities sell property insurance on the items stored there, which is useful if the items aren't covered by some other form of insurance. The growing market for self storage means that you are increasingly likely to see the building of storage units in your neighborhood sooner rather than later.
Market Characteristics
The United States is the main player in the self-storage industry, where the industry is estimated to be worth $38 billion. There are approximately 50,000 storage unit facilities throughout the U.S offering more than 2.3 billion square feet of self-storage space. 
About 18% of the industry is owned by the top five players, U-Haul and four (4) REITs (real estate investment trusts). This fact illustrates that there are numerous small, independent self-storage operations throughout the country building storage units. At any given time, about 10% of American households rent commercial storage units. 
Life events such as moving, divorce and even death often trigger the need for temporary and long-term storage. It's no wonder that more and more folks are building storage units as additional players enter the self-storage business.
Self Storage Industry Forecast
Self-Storage Business Model
Competition among self-storage units is greatest in metropolitan areas, where available, properly zoned land is at a premium. Many units are manufactured modular buildings that are easy and relatively quick to assemble. For this reason, building storage units has never been easier or more cost-effective.
Location Considerations
The minimum size of a self-storage facility is usually 40,000 square feet of rentable space, which typically requires two to three acres of land. The best sites are situated at major intersections that are easy to access and near a high, population density in a growing region.
Ideally, a self-storage facility would be free of nearby competitors and would also be close to a retail center. Of course, local zoning must permit building storage units in that specific location.
Types of Units and Amenities
Self-storage buildings offer a variety of individual storage rooms.  In square feet, the most popular storage room sizes include:  5×10, 10×10, 10×20, 10×30, 15×20 and 20×20 (the later of which is approximately the same size as a two-car garage). 
The units typically have corrugated-metal walls, no windows and can be locked by the renter/tenant. Access to the facility may be secured by clerical staff, security guards, digital gate codes, alarms and security cameras. 
Individual units might have a conventional lock or perhaps something more high-tech, such as a keypad, card reader, or biometric scanner. Higher-end units provide climate control, around the clock access, and power outlets within individual units.
Additional Considerations
Here are four points you should consider before constructing a storage unit facility:
In suburban and rural areas, storage facilities are often single-story allowing vehicles to drive directly adjacent to individual storage units.
Urban self-storage facilities are often multi-story and have freight elevators that offer easy access to their interior units.
The facility's management typically offers moving dollies and rolling carts to aid tenants in moving contents in and out of their units. 
U-Haul combines self-storage with truck rentals and retail sales of moving and packing supplies. This includes moving blankets, dollies, boxes of all sizes, wrapping paper, tape, bubble wrap, rope, and markers just to name a few.

Economics of Storage Units
The self storage business attracts investors who are building storage units in search of capital appreciation, cash flow, and tax benefits. Expect appreciation of the commercial storage unit property as the surrounding area gains population density. This trend should continue as you implement additions and as the effects of real estate inflation take hold.
Tax benefits accrue from depreciation and from the possibility of Section 1031 exchanges, in which an investor trades up to a more expensive, higher-end property while postponing income taxes. Depreciation increases cash flow by providing a non-cash tax deduction.
Leasing SSUs
Leasing is the primary source of cash flow. Cash flow is the property's gross rental income minus all operating expenses and mortgage payments.
Ways to maximize cash flow include efficiently packaging individual storage units relative to the plot size, and placing the site in a desirable location where traffic counts are high and utility costs are relatively low.
Most self-storage customers require one or more months of storage, but as anyone who has ever rented a self storage unit knows, once you move your personal or business items into a storage unit, one tends to leave it there for much longer than one month.
Mentally and emotionally it seems easier to move your items in, than to move them out, which is good news for developers, owners and operators of self storage facilities.
Leasing Revenue
Leasing revenue increases by maximizing the available space actually rented, in other words, by minimizing vacancies. This in turn depends on a unit mix that matches the demands of the community, as well as the offerings of your competition. 
For example, if your competitors don't offer storage space for boats and RVs, you may be able to gain a competitive edge by doing so. When building storage units, experts are available to consult new owners and developers about optimizing their unit mix to match the demographic data for your local, customer base.
A typical baseline mix (in square feet) for a self-storage facility is:
  5×10:  15%
10×10:  40%
10×15:  25%
10×20:  10%
10×25:    5%
Expansion space: 5%
How Much Does It Cost to Build Storage Units?
The cost to build storage units starts with land costs and parcel sizes. A facility of 40,000 square feet requires a land parcel size of 2 to 3 acres. You need 3 to 4 acres for 60,000 square feet and 4 to 5 acres for 80,000 square feet, and so on.
Generally, about 40% of a storage facility's customer base demands climate-controlled units. This feature increases rental prices 25% to 60%, but costs only 10 cents per square foot!  In other words, climate control has an incredibly high return on investment (ROI). 2
The coverage ratio of a site is the amount of land covered by the storage facility. For example, if you have 6,000 square feet of coverage on an 8,000 square foot lot, your coverage ratio is 75%. Naturally, the higher the ratio, the more revenue you can squeeze out of the storage facility. So bear that in mind before you start building storage units. 
Cost To Build Storage Units Per Square Foot 
Would you like specific statistics for the question, "How much does it cost to build storage units"? The following cost estimates are for 2019. For single-story units, expect to pay $25-$40 per square foot, but multistory self-storage units typically cost $42-$70 per square foot. Additional cost factors like electricity, plumbing, and security systems can add $15-$45 per square foot.
In terms of constructing storage unit buildings, the cost can be relatively affordable. Depending on the region and building size, expect to pay $25,000-$100,000 for simple, steel buildings with 10-50 units. The cost to build storage units can be surprisingly within reach. If you are interested in building large, amenity-filled storage units and require financing of at least $10 million, please contact us today at (206) 622-3000.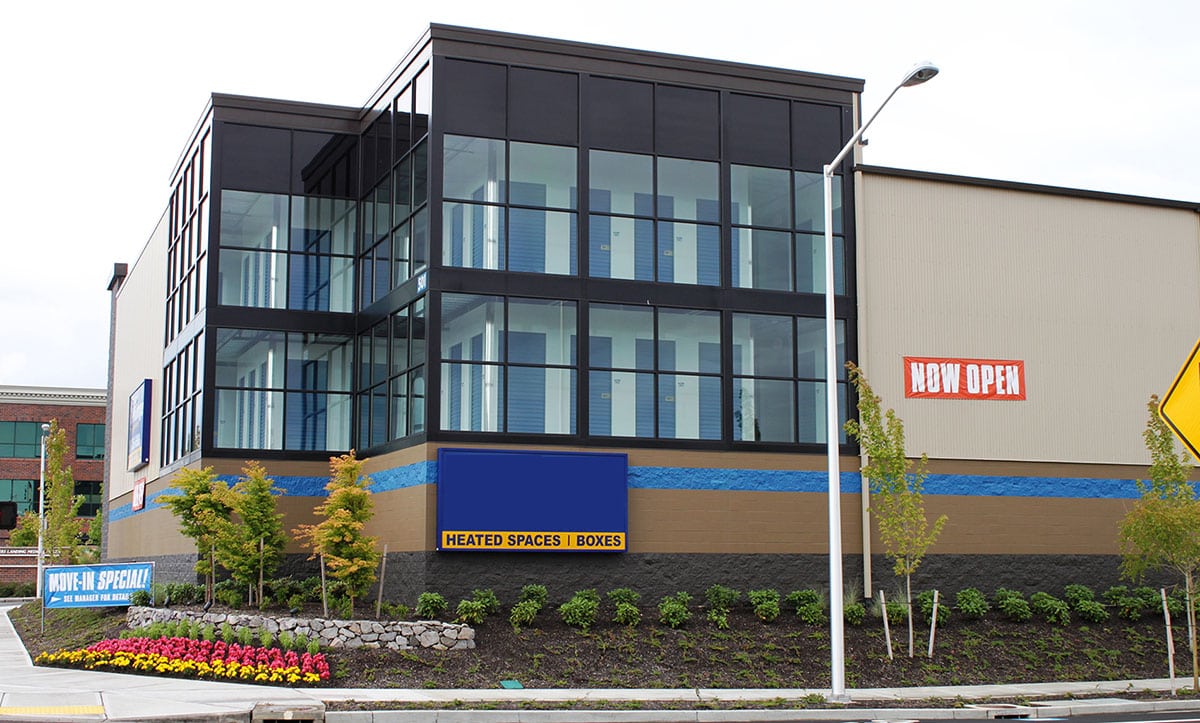 Monetizing Self-Storage Units
Cash flows can be increased by developing a multi-story storage facility. However, it's best to remember that some storage facility customers want to lease a large unit with direct vehicle access. 
Per square foot construction costs increase as the structure grows taller, which is yet another important factor to consider. The efficient use of interior space is a must. That includes items like room design, construction materials, corridor layout, and so forth.
Mail Storage Facilities
An alternative to self-storage facilities where each customer rents a storage unit is the mail storage facility.  This is an in-demand facility that maintains and stores customer materials. It uses a warehouse rather than individual storage units. 
Typically, customers box up their storage items. Then a shipper picks them up and transfers them to the mail storage facility.  A hybrid is the self-storage box (or bin), in which the facility provides pick-up and drop-off service. However, the items go to a designated storage unit rather than generalized warehouse space.
Types of Storage Unit Financing
Construction Loans
Sources of self-storage construction loans are banks and private commercial lenders. Additionally, loans can be guaranteed by the appropriate Small Business Administration program.
Self-storage construction financing usually starts with a short-term construction loan or bridge loan, often interest-only, for up to 18 months.
Loans are available for new construction, expansion, and rehabilitation. Borrowers typically put in equity equal to 20% to 25% of the property value, and the loans are typically recourse. This means the borrower is personally guaranteeing proper and timely loan payments.
However, non-recourse loans are available in the case of excellent credit and other positive compensating factors.
Refinancing
Once the construction phase is complete, you pay off the construction or bridge loan with a medium-term loan (mini-perm loan) or long-term loan (takeout loan). Mini-perm loans typically have terms of 2 to 3 years, and are ultimately "taken out" by permanent financing (take out loans) – mortgages with terms of 5 years or greater.
Self Storage Acquisition Loans
In addition to providing loans for building storage units and refinancing those loans, Assets America® can provide you with an acquisition loan to purchase an existing self-storage unit.  We can also work with the SBA to obtain an affordable acquisition loan with only 5% to 10% down.
Building Storage Loans 
If you are thinking about building storage units, think Assets America®. Turn to us when financing a storage facility with a minimum loan amount of $5 million.
Our self-storage construction loans offer great terms, and we can follow up with low-cost mini-perm and takeout loans.  The cost to build storage units of high quality and size is not insubstantial, but we are happy to work with any ambitious self storage builder. 
Remember, building storage units can be a lucrative business if you can obtain a favorable self storage construction loan that protects your overall storage facility investment. Self storage buildings housing commercial storage units are a great way to participate in the growing storage industry. 

FAQs: Owning a Self Storage Facility
What advice do experienced owners have for new owners?
Often the first thing experienced owners advise is to actively manage the facility, or at least remain in the loop. Web-based management software allows owners to check in with the day-to-day operations of their investment from anywhere in the world, including the sun-bathing deck of your recently financed yacht.
Are self storage units lucrative?
Yes. In fact, self storage units are among the highest-yielding real estate investments on the market. Once maintenance and security are in place, owners are free to collect numerous rent checks per square foot. Moreover, storage facilities remain buoyant during poor economic conditions.
What are some outside-the-box ways to make money with storage facilities?
You can charge rent, hold auctions for legally-seized property, offer renter insurance, add vending machines, and rent advertising space.
How much does it cost to build storage units?
The generally accepted range is $25-$70 per sq. ft. Clearly this figure may vary, but it remains an accepted estimation among market experts.
What about building a facility vs. buying an existing property?
One overlooked benefit of buying an existing self-storage unit facility is never dealing with zoning issues and development permits. These issues have proven a major headache to aspiring developers.
On the other hand, buyers should really do their due diligence because storage units tend to be highly profitable. Ensure that you find out the motivation to sell such a lucrative business opportunity.
What is the least and most amount of financing I can receive?
While our loans begin at $5 million, there is no upper limit to the amount of financing available.
Can I expect a quick decision?
Yes. In most cases, we provide you with a rapid decision. Many clients receive word within 24 hours.
Glossary of Self Storage Terms
| Term | Definition |
| --- | --- |
| Access Hours |  Hours during which tenants are able to access their storage space |
| Building Class | A rating system relating to the age and structural health of a building, categorized into A, B, and C (A being the highest) |
| Breakout of Storage Units | Often used on real estate listings, this term refers to the quantification of the different sized units available in a single facility; for example 5ft x 10ft x 10 units = (10) 5' x 10' units |
| Cap Rate | The capitalization rate, often just called the cap rate, is the ratio of Net Operating Income (NOI) to property asset value. For example, if a property was listed for $1,000,000 and generated an NOI of $100,000, then the cap rate would be $100,000/$1,000,000, or 10%. |
| Discretionary Review | A special power of municipal governments to change or prevent a proposed project even though it complies with local zoning, although it can only be utilized in exceptional circumstances |
| Drive-up Unit | A type of storage unit where the tenant is able to drive directly to the roll-up door for easy loading and unloading |
| Fair Market Value | The price that a property would sell for on the open market, given a reasonable understanding of relevant metrics |
| Long Term Storage | The typical duration marker for long-term storage is 12 months. |
| Phasing | Self-storage phasing is a planning method that allows for a flexible unit mix over time; in other words, owners are able to tweak the breakout of storage units to suit temporary needs. |
| Mini Storage | Another name for self storage |
| Real Estate Investment Trust (REIT) | A company that owns, operates or finances income-producing real estate; they often trade on major security exchanges |
| Total Building Area | The amount of land on a site that has been properly zoned and may be developed |
Online Resources