Successful Mixed-Use Development – 7 Brilliant Ideas
February 10, 2019
To begin with, mixed-use development is constantly evolving to meet the latest challenges of urban and suburban neighborhoods.  Oftentimes, a successful mixed-use property must solve a unique problem that calls for an innovative idea.  This idea should set the property apart.  Especially in urban environments, tenants want to live, work and play locally.  This requires mixed-use development projects to respond with amenities and designs that set them apart.  Here are seven brilliant ideas for successful mixed-use development from real-world projects that overcame obstacles and succeeded.
Apply For Financing
Idea 1: Maximizing Riverfront Views
The 35-acre former Navy Homeport on Staten Island lay fallow for many years after the Navy decommissioned it.  New York City initiated redevelopment, requiring a riverfront esplanade populated with retail and mixed-use development with direct water views.  One innovative mixed-use property, URBY Staten Island, combines 35,000 square feet of retail with 328 residences.  This mixed-use development won a Multifamily Executive Award (MFE) for its excellent design and execution.
The site, with walking paths, parks and restaurants, consists of two mixed-use buildings, four and five stories.  The buildings surround a private drive, anchored by two 10-foot wide sidewalks lined with trees, seating areas and plantings.  The brilliant idea was to add amenities that made this once-deserted area instantly feel like an established neighborhood.  So, the developers included a communal kitchen, a bodega, a café, and a large fitness center with pool.  It even has an urban farm atop the parking garage.  And the mixed-use property is only a four-minute subway ride away from the Staten Island Ferry.
Idea 2: Green Projects "LEEDs" the Way
One of the hottest trends in successful mixed-use development is sustainability.  Residents and businesses are very interested in green projects.  This is especially true of projects that replace decrepit structures like abandoned factories and industrial warehouses.  Such is the case with the very successful VINE mixed-use development on the western edge of Hoboken.  VINE transformed the city's frontier into a new neighborhood while emphasizing sustainability.  It won the Green Apple Award in 2015 and the MFE Award in 2017.
The mixed-use property is an 11-story, tiered building that shows off the brilliant Manhattan views across the water.  The unique façade consists of continuously altering window and brick patterns, helping to create many interior layouts.  Additionally, the building is certified LEED Gold for its many green ideas.  One such idea is a roof garden containing water-absorbing plantings and bamboo walls and floors. The property also boasts a power co-generation system for when the city power grid fails.  There is even an automated parking facility straight out of the Jetsons!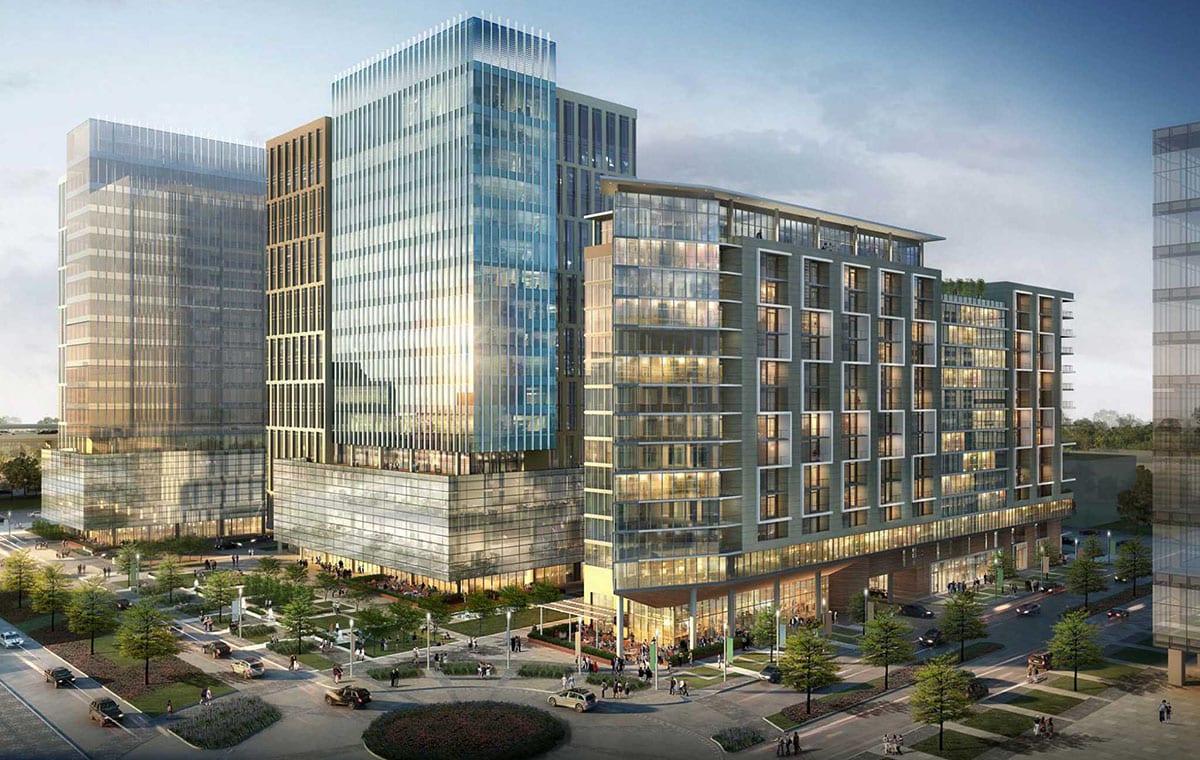 Idea 3: Green Goes Platinum
While Hoboken's VINE project garnered a LEED Gold designation, Seattle's Cove mixed-use development project did one better.  It won the top LEED Platinum designation by incorporating features that save 30% in energy consumption.  Importantly, this green 50,000 square-foot, 60-unit mixed-use property didn't cost more than a conventional one. For example, a simple fiber-cement panel exterior helped keep costs down.
The building has triple-glazed windows that save energy and attenuate sound. Efficient mini-split heat pumps provide HVAC, and the units sport efficient appliances and plumbing fixtures. Solar panels on the building's south side also serve as awnings as they generate 14.3 Kw of power. That's enough juice to service the common areas. The upper-level green roof creates cleaner water runoff. It's built using sustainable prefinished cement boards and bamboo in an interesting wavelike design. Micro and larger retail areas serve the neighborhood with large, efficient space.
Idea 4: Transforming a Former Prison
A Northern Virginia mixed-used development project transformed a prison into a new community. Within the walls of the Liberty Lorton project, developers redeveloped the once-grim facility into a community of townhomes, apartments, single-family homes, retail and commercial space. The original prison, conceived by President Theodore Roosevelt, championed social reform, with light-filled dorms and open-air spaces. Later, the prison added conventional guard towers and walls.
After that, the developers transformed the dormitories into 165 loft-style units using a handsome Colonial Revival design. They worked closely with citizens' groups and the local government to respect the property's heritage. Developers easily transformed the original design to a successful mixed-use development surrounded by two acres of green space, Liberty Greens. The space was once the inmates' baseball diamond. The developers turned other prison spaces into a community center hosting movies, concerts and a farmer's market. There is also a lounge, yoga studio, fitness center and outdoor pool. Plans call for 30,000 square feet of office space and 40,000 square feet of retail space.
Idea 4: All's WELL in Tampa
Billionaire Bill Gates is teaming up with a Tampa developer to create the first WELL-certified community, Water Street Tampa. WELL is a wellness and health standard set by the International WELL Business Institute. The standard incorporates a smoking ban, air quality standards, reduction of volatile organic compounds, mold and microbe control and much more. This successful mixed-use development will encompass three phases, in which two towers will provide 3,500 rental and condominium units. The 21-story and 26-story towers connect to retail spaces and a car park.
Furthermore, the project includes 2 million SQFT of office space, two hotels offering more than 650 rooms, and 1 million sq. ft. The city is kicking in $200 million for infrastructure (public utilities, roads, central cooling). The complex will feature 2 million SQFT of office, retail, educational and cultural space. Eventually, Water Street Tampa will house 23,000 residents and professionals. This pedestrian-friendly project will also build public area and parks integrating with the Tampa waterfront. It expects to receive LEED certification as well.
Idea 5: Focus on Fitness
Picture this: the 8th floor of a mixed-use development that contains a private 2-acre park. That's just one fitness feature of the Oceanwide Plaza in Los Angeles, curated by celebrity trainer Harley Pasternak.  In addition, the mixed-use condominium project will include 166,000 SQFT of open-air retail, a Hyatt hotel, and more than 600 residences.
This mixed-use property will offer features from world-class gyms, as well as yoga rooms, fitness programs and nutritional education. The facility will also feature recovery tools for residents who've suffered medical setbacks. The aim is to provide opportunities for the residents to participate in wellness programs that enrich their luxurious lifestyles.
Idea 6: Introducing Mixed-Use Development to Small Communities
Urban residents take mixed-use development in stride, but many small communities have yet to experience it.  Indeed, developers have discovered that educational outreach is often necessary to prepare residents for mixed-use development. One success story hails from Norman, Oklahoma. The city purchased a run down HUD-backed apartment building for $10. Developers are incorporating the building into a new, successful mixed-use development called East Village. It will contain 43 townhomes, 96 loft apartments and townhomes, and 9,000 s.f. of retail space. The property is only a mile from the University of Oklahoma. This ensures plenty of interest from college students who can walk or bike to school.
Educating the residents about mixed-use property is just the beginning.  Similarly, appraisers and lenders who are unfamiliar with mixed-use development also need education. For one thing, there are no comparables when you introduce the first mixed-use property in town.  Banks need to understand the unique features of successful mixed use development.  These include the risks of market acceptance, construction difficulties, multiple absorption patterns and project phase timing.  However, you must be realistic when considering whether the local population will accept the project.
Idea 7: Roundup of Emerging Trends
In conclusion, as we approach the next decade, futurists predict several trends that will affect the success of the mixed-use development market. For example, these include:
Accommodating the Sharing Economy:  Look for residences within mixed-use properties to design spaces that easily accommodate overnight Airbnb guests. In addition, the requirement for parking spaces might recede as ride sharing and mass transit become ever more popular.
Proximity to Work:  The gig economy encourages working from home. Those who don't have that privilege will still want to minimize their work commute, so mixed-use development in the downtowns will continue to see strong demand. Look for properties to provide extensive bicycle storage and on-site bike repair shops.
Behold the Hyperloop:  In the next 30 years, we may see the development of the Hyperloop. It is a low-pressure tube that allows capsules to travel at 700 mph. Commuting times that now take three hours will shrink down to a few minutes.  Consequently, this will support mixed-use development along the tube route, far away from urban centers.
Convergence of Spaces:  Will hotels and office buildings become obsolete? Space convergence fans predict new mixed-use development in which tenants live in buildings with large common areas. These areas will resemble a mix of hotel lobbies and co-working spaces. Tenants will have small sleeping quarters that will suffice until they move on to their next destination.
Assets America® Finances Mixed-Use Development 
Finally, whatever the future of mixed-use development brings, Assets America® is here to finance it. We offer loans beginning at $5 million to fund successful mixed-use development. Contact us today!
Related Articles: Successful Mixed-Use Development