Types of Apartments & Multifamily Buildings – Complete Guide
June 06, 2019
There are many different types of apartments and multifamily buildings. Investors should be aware of the many types of apartments so that they know their investment options.
Certain markets, like Manhattan in New York, have many tiny luxury apartments with high rents. But the island also has larger apartments and premium co-ops. Other cities have their own mix of apartment buildings and multifamily housing to complement single-family residences.
Clearly, investors have many choices. In this article, we cover:
Different Types of Apartments
Different Types of Multifamily Buildings
How Assets America® Can Help
Frequently Asked Questions
Helpful Related Articles
How Assets America® Can Help
Do you need multifamily financing for a large apartment building project or large condominium project?  Turn to Assets America®.  We are a large transaction, commercial expert with almost four decades of experience under our belts.  Assets America® provides apartment building (multifamily) financing transactions starting at $20 million.  Moreover, as our motto states, we provide commercial financing, combined with personal service and outstanding results!  Call us today at (206) 622-3000, or simply fill out the below form for a prompt response!
Apply For Financing
Different Types of Apartments
Typically, we classify apartments by size and number of rooms. These classifications are somewhat arbitrary, but they help establish a framework for understanding the apartment markets.
Large Apartments
It's important to understand that what one considers to be a large apartment is small compared to a house. Nonetheless, we demarcate anything larger than a two-bedroom as a large apartment. These include:
3+ Bedroom: These apartments offer a lot of space, multiple bathrooms and separate kitchens/dining rooms. Depending on the particular real estate market, these apartments can be rare or plentiful.
Classic Six or Seven: Large apartments built in NYC and other places, usually before World War II, containing six or seven rooms.
Penthouse: These are large apartments that sit at the top of an apartment building. Usually, they are quite luxurious and expensive, and they frequently offer spectacular views.
Duplex/Triplex: Multi-story apartments featuring stacked living space connected by internal staircases. Typically, the units contain one or more levels dedicated to sleeping quarters.
Maisonette: A triplex-apartment with its own private outdoor entry.
Loft: Usually repurposed from industrial space, lofts typically have open floor plans and might occupy more than one level. Interestingly, some are purpose-built in new luxury buildings.      
Parlor Floor: An apartment occupying the second floor of a brownstone or townhouse building. Extremely popular in Brooklyn.
NYC Apartment Tour of a Minimalist Studio
Medium Apartments
These apartments can accommodate individuals and small families:
2-Bedroom: Separate bedrooms, often with at least one ensuite bathroom. They often feature just 1 or 1 ½ bathrooms.
1-Bedroom: A single bedroom space, usually separate from a single bathroom. They can run the gamut from spacious to cramped, depending on the location and rent level.
Flex: A 1-bedroom apartment with enough space to serve as a second bedroom. Surprisingly, some landlords allow tenants to put up drywall to create the additional sleeping space.
Junior 1-Bedroom: On the cusp between medium and tiny apartment, this type of apartment has enough space for a separate small bedroom. Often, the bedroom is ¾ size.
Garden: A garden apartment sits on the ground floor and accesses a back yard, lawn or garden.
Shotgun Apartment: A multi-room apartment only one or two rooms wide. Each room opens into the next room. Typically, opens up in the back to outdoor space.
Basement Apartment: An apartment below street level, with or without windows. It may have its own entrance.
Flat: The "English" synonym for an apartment. However, San Franciscans define a flat as an apartment that takes up a single story of a large house.
Tiny Apartments
These apartments range from small to cramped. None of them have a separate bedroom, although larger studios might support conversion. These are best suited for individuals or couples.
Studio: This is basically, a two-room apartment with an open kitchen/dining area and space for a small bed or convertible couch. The second room is a full bath.
Alcove Studio:  A studio with an L-partition that creates a semi-private sleeping area.  It might not be any larger than a standard studio but feels more spacious.
Convertible Studio:  A larger studio that you can convert to a 1-bedroom if the landlord allows it.      
Micro-Studio: A studio with minimal kitchen and dining space, a cramped bathroom and tiny sleeping area. Typically, these apartments occupy less than 350 square feet.
Single-Room-Occupancy Unit: A small sleeping area without its own kitchen or bathroom.  Tenants share common bathrooms, toilets and kitchens. Thankfully, some SRO units might have a sink, microwave oven and/or small refrigerator. Fascinatingly, they are called bedsits in the UK and hasukjibs in South Korea.
Micro-Apartment:  This is an upscale cross between a studio apartment and an SRO unit. A micro-apartment can range from 50 to 350 square feet and may have its own bathroom and kitchenette. Unsurprisingly, in California these are "efficiency units" if they have at least 150 square feet.
Special Types
These apartments have special characteristics regardless of their size:
Cold Water Flat:  This is an apartment with no hot running water.
Garage Apartment:  An apartment built above a single-family garage.
Six Pack:  A type of apartment building popular in New England, composed of two attached triplexes.
Crib:  An apartment in the hood.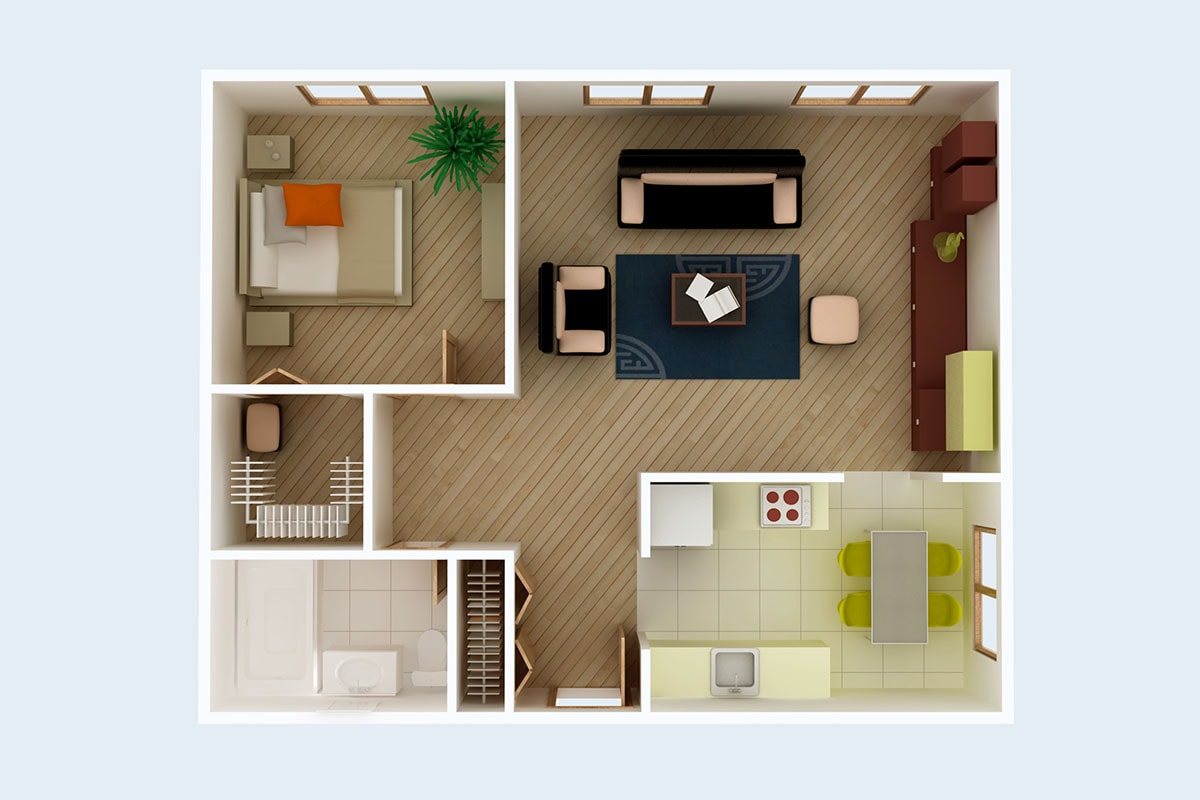 Different Types of Multifamily Buildings
Multifamily buildings contain 5+ apartments, or they are rows of attached houses.
Ownership Types
Rental units lease out according to the type building ownership:
Single-Owner Rental Building:  The landlord is an individual or company that owns the entire building.  All tenants sign leases with and rent from the building owner.
Cooperative Apartment Building:  Tenants own a corporation that owns the building.  A tenant can sublet an apartment with the corporation's approval.  To no one's surprise, these tend to be luxury buildings and are especially prevalent in New York City.
Condominium Apartment Building: Residents own their own apartments but share the common areas.  Therefore, owners can sublet their apartments without seeking permission. Sometimes, apartment buildings convert to condominium ownership.
Types of Structures
The different types of multi-family buildings include:
Townhouses:  A series of attached single-family houses that can be set up for rental or ownership.  Also called a rowhouse or a brownstone.
Low-Rise Building:  An apartment building with up to four floors, with or without an elevator.      
Walk-Up:  A low-rise building that lacks an elevator.
Mid-Rise Building:  An elevator-equipped apartment building with 5 to 11 floors.
High-Rise Building:  A building with 12 or more floors, usually featuring multiple elevators.
Loft Building:  A building converted from industrial or commercial use containing loft apartments.  Some loft buildings are purpose-built new structures.
Mixed-Use:  An apartment building with commercial space on the lower floors.
SRO Building:  A slum-like building reserved for SRO units.
Garden Apartment Complex:  A development containing attached or detached garden apartments.
Multi-Family:  A building with 5 or more apartments, each having its own external entrance.
Five-Over-One:  A midrise apartment building with special facilities on the ground floor.      
Tenement:  A multi-family low-rise building that typically offers low-cost housing.  Tenements are not necessarily slums but are usually unpleasant.
Apartment Complex:  A community of apartment buildings owned by a single entity.  It may have community amenities shared by tenants.
Prefab Apartment Buildings
One of the most innovative developments in recent years is the prefab apartment building. This is a prefabricated structure, manufactured as modules in a factory. Then a builder assembles the prefab modules at the site. The San Francisco area is a popular venue for prefab apartment buildings, as they tend to be more affordable.
Clearly, labor costs are lower because building in a factory is substantially more efficient than building onsite. A prefab apartment building will typically be four or five stories high with 80 to 150 units or more.
Frequently Asked Questions – Apartment Buildings
What is a garden apartment?
It's an apartment occupying the ground floor with direct access to a garden or backyard.  Usually, the building is part of a complex surrounded by gardens, shrubbery, trees and lawns.  Garden apartments are popular in both urban and suburban settings.
What's the difference between an apartment and a flat?
The biggest difference is the country.  In the United Kingdom, the word "flat" is used in the way we use the word "apartment."  Some locations give "flat" a nuanced definition.  For instance, in San Francisco, it's an apartment that occupies an entire story of a large house. 
How big is an apartment complex?
An apartment complex consists of two or more apartment buildings managed by the same owner.  There is no maximum size to an apartment complex, and some can be as large as a community.  You are most likely to find one of these types of apartments in an urban location.
What are the most common types of apartments in NYC?
There are many types of apartments in New York City.  Some of the most popular are condos, co-ops, railroad flats, classic sixes and sevens (and other pre-war apartments).  More of NYC's common types of apartments are lofts, garden apartments, and parlor floors. 
Is buying an apartment a good investment?
As we recently pointed out, investing in apartments is a strategy that has withstood the test of time.  There are many different types of apartments from which you can choose.  Doubtlessly, these are a good investment if you want to collect stable income and build your net worth.
Related Articles
Get In Touch