What is Multifamily Financing and How Does it Work?
July 16, 2018
Firstly, real estate is one of the best investments you can make this year.  That isn't a new discovery, but sometimes the challenge is figuring out the best way to get into the market.  Multifamily property and multifamily financing is the way to get there!
Secondly, Whether a seasoned real estate professional or a first time investor, multifamily property has the potential for powerful returns.
Thirdly, before you start looking for your new property, it's important to understand multifamily financing.  Our lending experts at Assets America® have all the information you need to know about multifamily loans.
The Basics of Multifamily Financing
Invest in multifamily property by obtaining multifamily financing.  This falls into the category of commercial real estate loans.  For financing purposes, a multifamily property is considered a building or complex that has five or more residential units.
Furthermore, funding or guaranteeing a multifamily loan can be achieved in many ways.  Some apartment building loans are guaranteed by or follow the guidelines of government programs, like Fannie Mae or Freddie Mac.
Securing Financing for Your Commercial Property
The ins and outs of real estate investment and multifamily financing can seem complex.  This is especially true for someone who is new to the industry.  But in reality, it's manageable when you understand the basics and decide which path to take.
Start the process today.  Contact our expert multifamily financing offices today to pursue a multifamily loan for your investment.  Please reach out to us at (206) 622-3000, or simply fill out the form below for a prompt response!  We look forward to hearing from you.
Apply For Financing
Types of Multifamily Loans
There are a variety of ways to invest in multifamily real estate, and there are loans catered to each situation.  These are the primary types you should know:
Acquisition Loans
If you simply need the capital to buy a multifamily property, an acquisition loan is the best option.  This loan funds the purchase only, rather than funding any construction or renovation.  This doesn't mean you can't upgrade these properties; it just means you need to fund the construction yourself.
Multifamily Construction Loans
On the other end of the spectrum are multifamily construction loans.  These loans can be used to build an entirely new multifamily property.  You can also use a construction loan if you've already purchased a multifamily property and need funding to renovate it.
Refinance Loans
As its name suggests, a multifamily refinance loan is a way to refinance your property.  Closing a multifamily refinance loan after completing renovations is a common practice.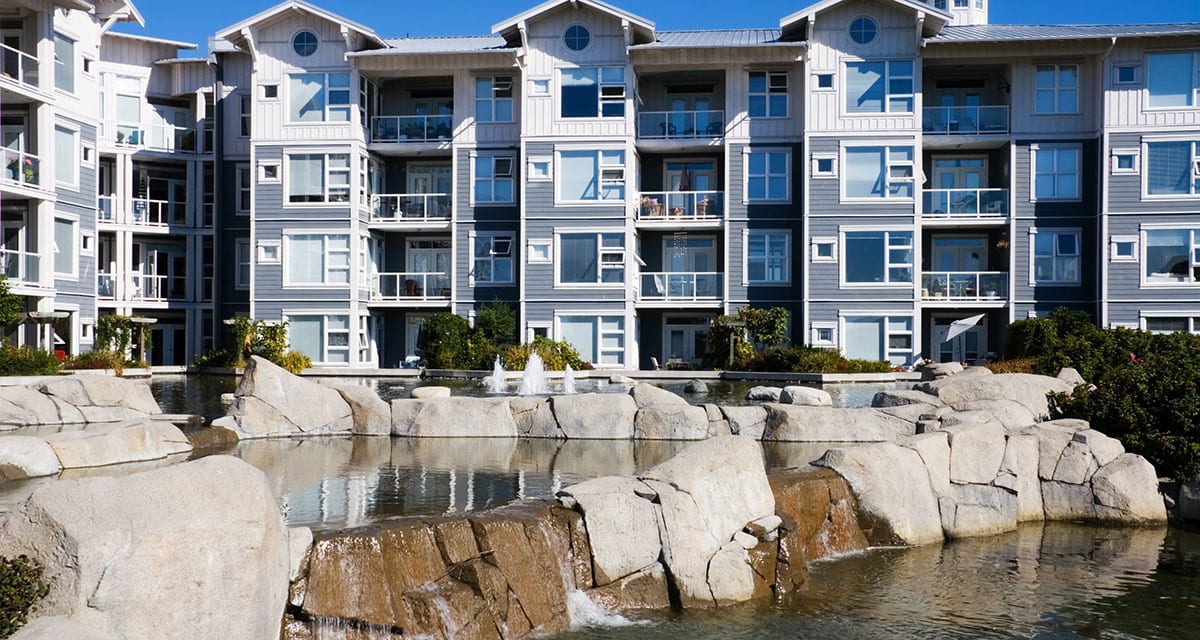 Bridge Loans
A debt service coverage ratio or DSCR, is one measure a lender will use to determine if they'll work with a borrower.  Calculate a property's or company's DSCR by dividing the net operating income by the total debt payments paid each year.
Think of this a similar to the debt-to-income ratio that is used in personal financing.  It lets a lender measure how likely you are to be able to make your payments. Lenders generally have a minimum DSCR that they require in order to offer financing.
What to Look for in Multifamily Financing
Did you know, multifamily financing has a complex array of options depending on the type of property you're purchasing?  When you find a property you want to invest in, you'll start looking for a lender.  Some lenders specialize in different types of multifamily loans.  So, find out which type of multifamily financing best fits your situation.
When looking for a lender, there are several factors you can use to choose the best one for your needs.  First, find out what types of government lending programs they work with.  This gives you more options to choose from.
Another factor you'll use is the LTV or LTC (depending on the type of loan you're seeking).  However, some investors don't have enough capital to make up the remaining cost for their purchase and/or renovation.  In this case, it may be wise to take the time to secure your funding before moving forward.
Related Articles