Commercial Real Estate Austin | Ultimate Investor's Guide
June 15, 2019
In the first place, Austin, Texas, the 11th most populous U.S. city, is a magnet for business. Moreover, it has one of the country's highest growth rates as the population approaches one million. U.S. News and World Report ranks Austin as the best place to live in America in 2019. In like manner, the city's unemployment rate is a scant 4%, with strong credentials as a technology hub. Furthermore, the city ranked #1 as the best place to start a business in 2018. Commercial real estate (CRE) taxes are favorable to business, and Texas employees pay no state income tax! As a matter of fact, the city's various initiatives, like Opportunity Austin, are job engines that drive growth. Consequently, it's a small wonder that the commercial real estate Austin market is one of the best in the country.
Video: This is Austin – Aerial Scenes from Austin, Texas
Current Commercial Real Estate Austin Market
Tech companies occupy about 60% of commercial real estate in Austin, TX, and provide 40% of the jobs. However, Austin commercial real estate also encompasses a wide variety of industries, from health services to government. Furthermore, here is a breakdown of the CRE sub-markets that comprise commercial real estate in Austin.
Commercial Lending for Austin CRE
Assets America® provides commercial loans and financing starting at a bare minimum of $20 million, with no upper limit, to the Austin commercial real estate market.  Famously, we work with a network of private money funding source, banks, and other institutions sources.  We provide the CRE community with the high-end, dedicated, professional CRE brokerage and financial services that sophisticated real estate investors demand.  Call us today at 206-622-3000, or simply fill out the below from for a prompt response!
To learn more about CRE financing, see our article 6 Keys to Impress Commercial Lenders.
Apply For Financing
Office Buildings
Large companies have a substantial office presence in Austin, TX. For example, IBM, Apple, Facebook, Amazon, Dell and Whole Foods are just some office dwellers. In fact, rental rates are high, vacancy rates are low, and tenants are flocking to the Austin scene. Amazingly, tech giants from the West Coast, especially Amazon, are taking up new inventory as fast as developers can produce it. Additionally, the U.S. Army is leasing a portion of its new headquarters in Austin. Consequently the Central Business District, the North/Northwest and the Eastside office buildings are almost fully leased upon delivery.
Huge companies like Google, Amazon and Facebook are pre-leasing many large blocks of planned new office space. Factually, Apple's new campus is pulling many high-tech companies to Austin, putting further pressure on existing supply. Truthfully, smaller tenants will have more trouble arranging new accommodations as they compete with the big boys for office space. In fact, tenant brokers are urging clients to start searching for space up to two years before needed.
Coworking Spaces
Furthermore, the growth of coworking is creating dense, open office spaces with walkable amenities. There are approximately 720,000 square feet of coworking space throughout Austin. We Company, a leading coworker brand, just purchased 4.7 acres in downtown Austin. In fact, tenants are amenable to flexible lease terms in Austin as they leverage the coworking trend. Clearly, coworking space is one reason why startups thrive in Austin. And, this is why Austin ranked #2 nationwide for startup activity in 2018, specifically for female-owned companies.
Astonishingly, demand for office space is so high that landlords are now trying to establish density clauses in leases. However, landlords that provide the requested density can charge a premium for downtown office space. Obviously, with office rents rising so quickly, landlords are under pressure to increase tenant improvement allowances.
Finally, if you're interested in acquiring or developing office buildings in Austin, read this Ultimate Guide to Office Building Loans.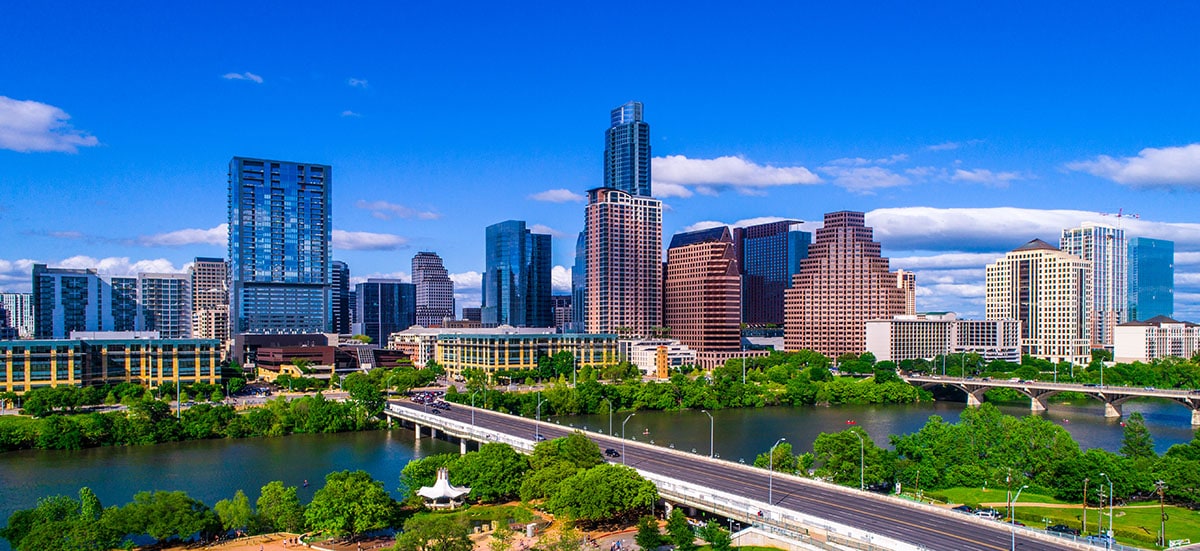 Mixed Use
The demand for on-site amenities is spurring development of office/retail mixed use buildings and complexes. Additionally, downtown mixed use apartment buildings are providing retail shopping and restaurants to busy tenants. In like manner, there are two mixed use properties slated for 2019 delivery in East Austin. Equally important, a huge mixed use development is under construction in Northeast Austin that will include green space and bike/hike trails. Not to mention that the East Village development area will bring shopping amenities currently missing from the area.
Finally, if you're interested in acquiring or developing mixed-use property in Austin, read this Ultimate Guide to Mixed-Use Loans.
Hotels
The forecast for the Austin hotel market is extremely positive. For instance, RevPAR expansion is 1.2% in 2019, an increase from 0.9% in 2018. Also, market occupancy levels should hover around 70% to 71% through 2020. Generally, Austin has a history of supporting substantial increases in new hotel supply. Therefore, look for 5.3% supply growth in 2019, roughly matching the 5.6% increase in demand. Moreover, many hotels are in the pipeline, but look for fewer supply increases next year.
An additional fact driving hotel occupancy is the explosive growth of large businesses in downtown Austin. Furthermore, flights between Austin and San Francisco are booming as high-tech executives shuttle back and forth. This increases demand for hotel units and supports prices. Also, hotels benefit by the continuing strong economy that encourages travel. In all probability, average daily rates could rise 1.4% in 2019 and 1.7% in 2020.
Finally, if you're interested in acquiring or developing hotel properties in Austin, read this Ultimate Guide to Hotel Financing.
Multifamily
CBRE's 2019 Americas Investor Intentions Survey highlights the multifamily sector's prominence in the Austin commercial real estate market. Remarkably, it ranked in second place, with 37% of respondents calling multifamily the most attractive subsector in Austin. Amazingly, that's up 17 percentage points from 2018. Without doubt, the bursting population is driving demand for residential housing and, more importantly, multifamily and apartment units.
Furthermore, in 2018, the red-hot Austin, apartment market sent rents rocketing another five percent (5%) higher. Notably, this is among the most robust growth rates in the country. Incredibly, the year saw 11,312 additional units filled, a new record. Additionally, this is despite the fact that developers routinely deliver more than 10,000 new units each year. Consequently, the average unit rent for a newly opened, Class A property unit was $1,442/month. And it can be seen that stabilized buildings saw an average monthly rent of $1,679. As one would expect, rents increase as you approach the downtown.
Austin has about twice the national average of employees working from home. Clearly, this translates into the need for more apartment space and better amenities. It is likely that the apartment building sector should continue to grow by 7% to 8% annually within Austin, Texas.
Finally, if you're interested in acquiring or developing multifamily property in Austin, read this Ultimate Guide to Multifamily Financing.

Industrial Park
Industrial space demand is quickly increasing as same day shipping comes to dominate retail. Clearly, the addition of Amazon and Apple to the market for commercial real estate in Austin is a game-changer. In fact, this has greatly boosted demand for warehouses and distribution centers. Importantly, "Last Mile" facilities, which provide final delivery to customers, are experiencing an increased demand.
As part of the Texas Triangle, Austin will continue to benefit from eCommerce businesses' storage space requirements. In fact, industrial/logistic property was the most attractive Austin CRE sector by 39% in a recent survey.
However, high property taxes are adversely impacting some of Austin's industrial market. Not surprisingly, some tenants are relocating from high-tax Travis and Williamson Counties to low-tax or lower-tax markets like Schertz and New Braunfels. Consequently, one tenant, the Travis Association for the Blind, is purchasing a new facility that will build to suit.
Finally, if you're interested in acquiring or developing industrial parks in or near Austin, read this Ultimate Guide to Industrial Park Loans.
Hospitals
It's comforting to know that Austin has many large hospitals, including St. David's and the Seton Medical Center. In fact, a new hospital is under construction in Oak Hill, a southwest suburb of Austin. Critically, the hospital will deliver a wide variety of inpatient services and specialty care, and the site will also include a clinic.
Furthermore, Baylor Scott & White Health is building its first Austin hospital. Additionally, the University of Texas at Austin is redesigning Austin State Hospital to become the Brain Health Campus.
Finally, if you're interested in acquiring or developing hospital buildings in Austin, read this Ultimate Guide to Hospital Loans.
Shopping Centers
It's no secret that shopping malls across America have been fighting hard times. Comparatively, Austin's booming population has put a floor under the shopping center market. Consequently, many shopping centers are getting makeovers or, in the case of the Highland Mall, repurposing. Thus, the mall is turning into a campus of Austin Community College (ACC), thanks to a $900 million private-public initiative. Previously, a mall anchored by JC Penney became another part of the ACC. Without dispute, the three top shopping centers in Austin are Renaissance Market, Round Rock Premium Outlets, and Austin Farmers' Market.
Finally, if you're interested in acquiring or developing multifamily property in Austin, read this Ultimate Guide to Shopping Center Loans.
Austin Neighborhood Guide
The five best neighborhoods for CRE investment in Austin are:
Downtown Austin: Appropriate for large investors looking to participate in the office building, retail, multifamily and mixed use submarkets. Naturally, it's expensive and thriving.
East Austin: This area is relatively affordable and centrally located. Consequently, the East Austin area attracts young professionals and students. Currently, it's undergoing extensive new construction activity.
Zilker: This historic area has great potential for retail and restaurant investments. Conveniently located, it's just a 10-minute drive from downtown Austin. Specifically, amenities include varying housing stock, parks, and easy commuting.
Allendale: Charming community with a thriving apartment rental market. This area is undisputedly, one of the best places in Austin to raise a family. And it's exciting that you'll find retail, mixed use and multifamily investing opportunities.
West University: This is another area with excellent potential for retail and multifamily investors. However, it is mostly populated by students, making it a popular venue for entertainment, local bars and eateries.

Austin Commercial Real Estate Listings
There are several websites that provide Austin commercial real estate listings. The two best are Realty Austin and LoopNet. Conveniently, both have entries for CRE purchase or lease, including land, offices, industrial property, multifamily apartments and much more.
Commercial Property Taxes
According to the U.S. Census Bureau's Annual Survey of State & Local Government Finances, Austin residents pay below-average taxes. Specifically, the rate on average in 2016 was $87 per $1,000 of personal income, compared to $99 nationally. Unfortunately though, CRE property taxes are on the rise in Austin. It is a bit alarming to know that landlords and tenants agree that the rate of increase is not sustainable. As a consequence, property taxes increases are hiking the operating expenses for retail tenants.
There is no simple formula for calculating CRE tax rates in Austin, due to varying jurisdictions. Nonetheless, here is how much tax money goes toward each jurisdiction:
School District (54.74%)
Travis County (17.33%)
City of Austin (16.14%)
Hospital District (4.90%)
Junior College (3.69%)
Municipal Utility (1.29%)
Emergency District (1.17%)
Water Control and Improvement District (0.70%)
Road District (0.04%)
For more information about his subject, you may contact the Travis Central Appraisal District.
Video: How to Calculate Commercial Property Tax Rates in Austin, Texas
Recommended Commercial Real Estate Austin Appraisers
There are dozens of really good CRE appraisers within the Austin area. Reducing them down, here are three:
Keith T. Bodungen, MAI, SRA, AI-GRS
David J. Englund, MAI, SRA, AI-GRS
Paul Gilliam, MAI
Of these three appraisers, all are members of the Appraisal Institute, where they have held leadership roles. Importantly, for more information about the appraisal process, please read our article Commercial Real Estate Appraisal — Everything You Need to Know.
New CRE Construction
CRE construction is booming in Austin. Thus, the demand for new space is so high that landlords are under pressure to increase tenant improvement allowances. Therefore, owners are more willing to build out spec suite options for Austin commercial tenants.
East Austin was once primarily residential with a smattering of Class B and C commercial properties. Currently, you can see the East Austin skyline filled with cranes, constructing Class A properties that will command top rental rates. Specifically, new tenants include GoDaddy, Google and HEB/Favor. It has become quite transparent that office and retail space construction will create a new around-the-clock market status to East Austin.
Lately, opportunity zone legislation is putting other neighborhoods under scrutiny and possible investment favor. Predictably, the next decade will see new construction in areas that once previously languished. Surely, that was the case with the now-thriving Eastside, Domain and East Riverside areas.
New Construction List
New commercial real estate under or just completing construction include:
Lenox Ridge Apartments: A new North Austin 350-unit complex with rents ranging from $1,225 to $2,100 per month.
Plaza Saltillo: A mixed use facility in East Austin, consisting of six blocks of apartments, restaurants and specialty retail. Importantly, a Whole Foods 365 store will anchor the project, and there will be 800 multifamily units. Amazingly, Google took all 150,000 square feet of office space.
70 Rainey: This is a 34-story mixed use facility featuring an apartment tower and ground-floor retail space. Specifically, the apartments consist of 164 condo units, and the retail space occupies 10,300 square feet.
Third + Schoal: This property is a 29-story office tower consisting of 16 office levels and 13 parking levels. Importantly, Facebook, Bank of America and Dickinson Write are primary tenants.
Hotel ZaZa/Gables: Another mixed use property, this is a 24-story building with 150 hotel rooms and 221 units of multifamily. Factually, the hotel will occupy the bottom 12 floors, the rest allocated to multifamily.
405 Colorado: The 24-story tower will evenly split between office space and parking. Frankly, the asking rental rate is $45 per square foot under a triple-net (NNN) lease. Usefully, the 14th floor Sky Lounge will host building amenities.
And believe it or not, this is just a smattering of new construction projects in Austin. For more information about financing commercial construction, see our article Commercial Real Estate Appraisal — Everything You Need to Know.
Video – Austin, TX Real Estate Investment Opportunities
Frequently Asked Questions
Where can I buy commercial real estate in Austin?

Your best bet is to work with a CRE broker who is familiar with the type of property you seek. Clearly, as far as listing services go, the two best are Realty Austin and LoopNet. Obviously, there are many CRE opportunities in Austin, so it pays to be choosy.

What's the CRE market like just outside of Austin?

In a word, booming. Naturally, population growth responds to the influx of high-tech firms. In fact, many new professionals are choosing to live in the near suburbs. Clearly, this creates increased demand for retail, multifamily and hospital construction.

What's the average appreciation for commercial real estate in Austin?

The average rate of appreciation for Austin CRE has been 7.48% per year over the last 10 years. Tantalizingly, two areas that look especially interesting are hotel franchises and apartment buildings. Therefore, see our articles Buy a Hotel Franchise | Ultimate Success Guide and Can I Buy an Apartment Building?

How do I break into commercial real estate?

The best way to break into CRE is to become an expert on the different neighborhoods, submarkets and trends. Again, without dispute, two information providers are Austin Business Journal — Austin Commercial Real Estate News and Quarterly Market Report — NAI Partners.
Related Articles