Commercial Real Estate (Tampa) | Ultimate Investor's Guide
June 23, 2019
As Florida's third largest city, Tampa is an important commercial real estate market. Notably, Tampa is a densely populated city on Florida's west coast, home to more than 4 million residents. Besides Tampa itself, close-by cities include Largo, St. Petersburg, New Port Richey, Holiday and Clearwater. In fact, the Tampa metro area is in the top 25 fastest growing U.S. cities. Impressively, the area is home to four (4) Fortune 500 companies and altogether 19 companies with revenues exceeding $1 billion/year.
Population growth is strong in Tampa, with robust job growth and decreasing unemployment rates. In general, Florida and Tampa have benefited from these trends. For instance, Tampa Bay added 22,000 jobs in 2018, a leading performer nationwide.
In this article, we'll take a look at the various submarkets within Tampa commercial real estate. We'll also identify the best neighborhoods and some reputable CRE appraisers. Finally, we'll answer some frequently asked questions about commercial real estate in Tampa FL.
Current Tampa Commercial Real Estate Market
In this section, we survey the current Tampa commercial real estate market by subsegment. For further information, check out the latest Tampa CRE news by clicking on these links:
Video – Aerial Footage of Tampa, FL Commercial Real Estate
Office Buildings
The office vacancy rate in Tampa is below twelve percent (12%). Truly, good job creation and a lack of new construction is bolstering the office market. Furthermore, vacancies dropped over the last five years, helping to boost rents and creating profitable selling opportunities. Both downtown Tampa and suburban Westshore show good demand. In fact, Tampa leads the nation for office space absorption, due in part to low construction activity. Moreover, new office buildings are under construction at the Renaissance Center and MetWest, among others. More specifically, 2018 saw 21 office transaction with $613 million in sales volume, mostly in Westshore.
Tampa Commercial Real Estate Brokers
You'll be happy to know that Assets America® participates in the market for commercial real estate in Tampa.  We offer various types of commercial real estate financing starting at $20 million. If you are looking for Tampa commercial real estate brokers, contact us at Assets America® for complete professional financing and sales brokerage as well.  Please see our Contact Us page, call us at 206-622-3000, or simply fill in the below form and receive a prompt response!
Also, read our article How to Find the Best Commercial Mortgage Lenders to learn more about the subject.
Apply For Financing
Downtown Tampa office development should have a significant impact for the first time in 25 years. Clearly, this arises from high rental rates. Three mixed use projects will add substantial office space in 2019. Additionally, developers are planning and building several projects in the Westshore district.
Of note, lease rates are around $27 per square foot, up 22% over the past five years. And, office rental rates should grow by a further 17% through 2022.
Finally, if you're interesting in acquiring or developing office buildings in Tampa, read this Ultimate Guide to Office Building Loans.
Video – The Rennaisance at West River – Groundbreaking Ceremony
Multifamily
Sarasota has experienced strong multifamily growth in the past five years. Specifically, this stems from several years of depressed new supply coupled with pent-up demand. Local government rules favor apartment living, and home ownership is down in the area. Without a doubt, higher interest rates are making home ownership more expensive and favor apartment rental. These are positive developments for the multifamily market, and 2019 should be another really strong multifamily year.
For one thing, a 53-story apartment building is going up at 111 S. Ashley Gardens. It will contain 300 units on prime riverfront property.
The multifamily pipeline is large for Collier and Lee counties, due in part to historical undersupply. Most probably, this will slow down in the short term, but some growth should continue.
Finally, if you're interesting in acquiring or developing multifamily property in Tampa, read this Ultimate Guide to Multifamily Financing.
Industrial
Tampa is planning more industrial space construction than at any time in the last 20 years. In fact, demand for new industrial space is strong, especially in Polk, Pinellas and Hillsborough counties. Specifically, those three counties leased five million square feet of industrial space in 2018, a giant number. Motivating factors include online commerce, building improvements and the evolving logistics industry.
Finally, if you're interesting in acquiring or developing industrial property in Tampa, read this Ultimate Guide to Industrial Park Loans.
Mixed Use
Three mixed use developments will add office space in 2019. Specifically, these are the Midtown Tampa, Heights and Water Street Tampa projects. Together these will add more than 3 million square feet of office space. Midtown Tampa will add 22-acres of residential, retail, entertainment and office space, totaling 1.8M square feet. Additionally, the 53-acre Water Street mixed-use redevelopment project consists of 18 buildings covering 9 million square feet! This bay-front property will include office space, two new hotels, retail space, new apartments and cultural attractions.
Finally, if you're interesting in acquiring or developing mixed use property in Tampa, read this Ultimate Guide to Mixed Use Loans.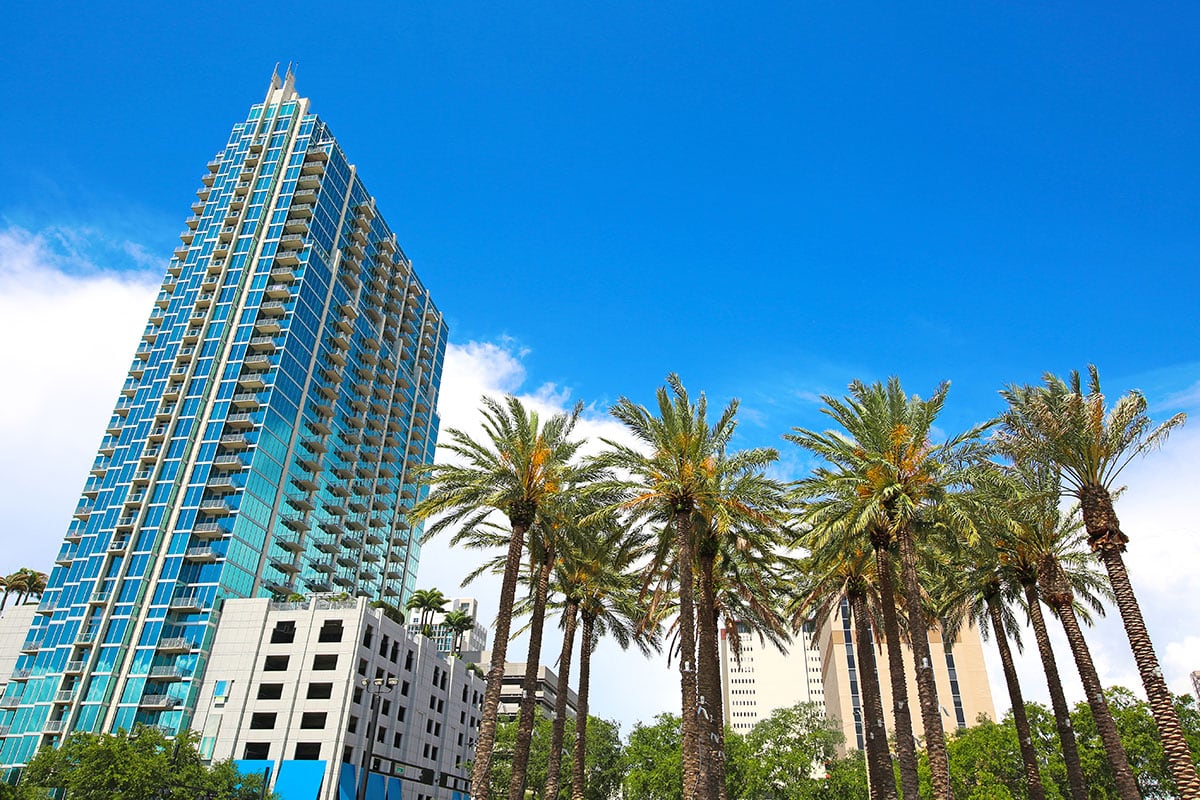 Hotels
Once again, the area is showing strong growth in the lodging submarket. Clearly, it benefits from strong demand and, until recently, little new supply. New development includes properties for Aloft, Westin, Art Ovation, Embassy Suites and Sarasota Modern, which will draw new tourists. Furthermore, a 26-story, 173-room Marriott Edition at Water Street awaits opening in early 2021. Specifically, it will offer luxurious amenities like a rooftop pool, fitness center/spa, high-end restaurants, and chic retail spaces. Right now, Marriott operates the Tampa Marriott Waterside Hotel & Marina, a 727-room property. It is opening a 519-room JW Marriott in 2020.
Finally, if you're interesting in acquiring or developing hotel properties in Tampa, read this Ultimate Guide to Hotel Financing.
Shopping Centers
It must be remembered that ecommerce, such as Amazon, has devastated the mall market. Nevertheless, malls and shopping centers occupy massive amounts of space, typically in the best areas. Developers are interested in redeveloping these properties for modern purposes. In fact, Tampa Bay boasts two malls with huge redevelopment potential.
Firstly, there is Westshore Mall in Tampa's strongest office market. It is a prime location for restaurants, and could greatly benefit from grocery and multifamily development. Importantly, the owners have indicated the intention to replace the defunct Sears box store with apartments and office buildings.
Secondly, the University Mall is a gateway to the area's technology and business development. Clearly, this 15-acre space has potential for medical and research real estate projects. Current ownership foresees the addition of apartments, office space, streetscapes and restaurants as a game-changer.
Finally, if you're interesting in acquiring or developing shopping centers in Tampa, read this Ultimate Guide to Shopping Center Loans.
Building Storage Units
Tampa, like many cities, has seen robust development of new storage facilities. Of course, this threatens the rents that some units can charge. However, the business remains strong, as evidenced from a recent acquisition. Specifically, a Buffalo-based company, Life Storage L.P., purchased a 631-unit storage facility in Tampa for just under $7 million. Notably, the Class-A facility, called Seminole & Heights Self Storage, is a three-level structure, which is unusual. Also unusual is that some space will be devoted to offices. Naturally, the units are climate controlled. Overall, the facility occupies 65,224 square feet on 2.1 acres. The real estate broker for the transaction foresees storage pricing accelerating in Tampa and other coastal areas.
Finally, if you're interesting in acquiring or developing building storage units in Tampa, read this Ultimate Guide to Building Storage Loans.
Hospital Buildings
Overall, experts predict that hospitals will become more consumer-centric, much like Apple and Amazon. Clearly, this is important to Tampa because of its growing population that spurs new hospital construction.
Many new hospital buildings are going up in Tampa. For example, BayCare is building a 60-bed hospital in Pasco County. Certainly, this will bring needed competition among different hospital groups. BayCare owns 15 hospital campuses in the Tampa area and throughout Florida. For example, BayCare's St. Joseph's Hospital is constructing a six-story, $126 million tower, adding 30 rooms on each level. Furthermore, the operator is building a $53 million facility in Valrico. Surprisingly, it resembles an Apple store tech deck in that it will service a variety of health care needs.
Additionally, Florida Hospital of Orlando is expanding into the Tampa area after merging with University Community Health. Recently, it purchased Dade City hospital in Pasco County. It is also planning new hospital construction in Polk County and renovating its flagship Florida Hospital Tampa for $300M (million). Significantly, Hospital Corporation of America is building new emergency rooms in Brandon, Lutz, and Palm Harbor. Also, it's constructing a new tower for patients at its Sun City Center.
Finally, if you're interesting in acquiring or developing hospital buildings in Tampa, read this Ultimate Guide to Hospital Building Loans.
Master Planned Communities
Master planned communities are very hot in Tampa, with new ones appearing in Hillsborough and Pasco County. Notably, they include Mitchell Ranch, Starkey Ranch, and North and South Bexley. Mitchell Ranch is 333 acres with 800 residential units and almost 1M square feet of non-residential and commercial space. Moreover, Starkey Ranch is 2,400 acres and includes a new elementary school. North and South Bexley are twin communities with 7,000 acres and 13,000 apartments, homes and townhomes. It has about 1 million square feet of commercial retail and office space.
Finally, if you're interesting in developing master planned communities in Tampa, read this Ultimate Guide to Master Planned Community Loans.
Video – Tampa MPC Named "Master Planned Community of the Year (2016)"
Tampa Bay Neighborhood Guide
Here is a brief rundown of the best neighborhoods for commercial real estate in Tampa FL:
Harbor Island: A central location near downtown Tampa and the water. Notably, it has high real estate prices with room to grow.
Courier City: There are many construction projects in this area with appreciating property values.
North Hyde Park: This area appeals to families looking for upscale amenities in a peaceful environment. Indeed, it is an excellent retail market.
Downtown Tampa and Channel District: This is a high-energy locale with many investment opportunities for CRE. Additionally, it benefits from many attractive parks.
Kenwood: A historic place just outside of downtown St. Petersburg that is a hotbed for flippers.
Downtown St. Petersburg: Urban mix of restaurants, offices, colleges, museums, hotels and retail store. Markedly, it is home to 5,000 residents and growing.
Ybor City: The Latin Quarter of Tampa, just a mile from the downtown. It's an excellent place for ethnic dining and shopping.
West Tampa: A happening place appealing to a younger crowd and to empty-nesters. For sure, it is rapidly gentrifying and experiencing much redevelopment.
Seminole Heights: Attracts a bohemian crowd where redevelopment and renovation is strong. Specifically, it contains an eclectic mix of retail and restaurants.
Gulfport: A funky town between the beaches and St. Petersburg. Markedly, it contains many shops and restaurants, with excellent prospects for multifamily development.
Tampa Commercial Real Estate Listings
There are several listing services available when you are looking for commercial real estate in Tampa. In fact, we recommend CityFeet Tampa and LoopNet Tampa.
Video – Is Every Commercial Property Available on Loopnet?
Tampa Commercial Property Taxes
The commercial rent tax rate in Hillsborough County is 8.2% as of January 1, 2019. Uniquely, this type of tax is a feature of Florida CRE. To be sure, the 8.2% figure includes the state's 5.7% rate. Significantly, the tax is due when the landlord receives the rent. The tax includes constructive rent, which is an indirect payment for the landlord's benefit. Find more information on the Official City of Tampa – Taxes webpage.
Recommended CRE Appraisers
Tampa offers many commercial appraisers from which to choose. These include companies like Rickenbacher Appraisals and Appraisal Development International.
For more about appraisals see our article Commercial Real Estate Appraisal — Everything You Need to Know.
New CRE Construction
We've picked out four projects that deserve mention:
To learn more about commercial construction, read our article Ultimate Guide to Commercial Construction Companies.
FAQs – Commercial Real Estate in Tampa
Where can I buy commercial real estate in Tampa?
The Tampa area offers many opportunities for commercial real estate investors.  To be sure, a good place to look is with CityFeet Tampa and LoopNet Tampa.
How do I break into commercial real estate in Tampa?
Looking for commercial real estate in Tampa?  A good place to start is with a broker familiar with commercial real estate in Tampa and its surroundings.  It can be a real estate broker or a financial broker who understands the area's dynamics.
Is now a good time to buy Tampa Bay commercial real estate?
Yes indeed!  Now is a fine time to purchase commercial real estate in Tampa.  Tampa is a booming area full of opportunities in many different submarkets.  Overall, commercial real estate in Tampa should do well through the cyclical ups and downs of the market.
Recommended Articles